South Carolina man planted bombs near home, pledged allegiance to ISIS, FBI says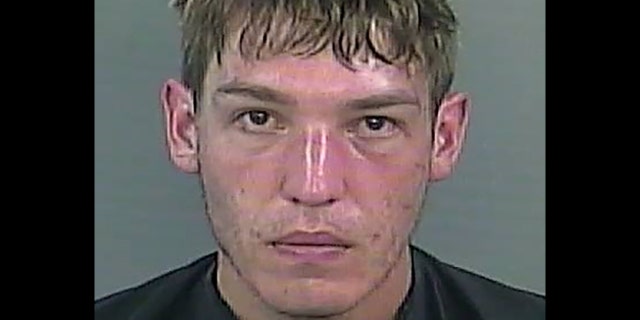 NEWYou can now listen to Fox News articles!
A South Carolina man was indicted Wednesday on a dozen federal gun and explosives charges for allegedly planting devices – even one in a teddy bear – with notes referencing ISIS near his home over the last few months.
Wesley Dallas Ayers, 27, of Anderson County, was charged with transportation of explosive materials with the intent to injure, possession and use of destructive devices during the commission of a violent crime and use of a destructive device during the commission of a felony, according to Fox Carolina.
Ayers was arrested in March on a federal charge of possession of an unregistered firearm, according to the station. The FBI linked him to a more sinister plot after conducting a search warrant on his home.
FBI agents said Ayers made and planted several explosive devices within a 2-mile radius around his home, according to WYFF-TV. At least four of the devices were deemed to be "destructive devices or bombs" and three others were identified as hoaxes, the station reported.
Federal agents added that some of the boxes Ayers left around his neighborhood contained notes pledging his allegiance to the Islamic State, WSPA-TV reported. Agents said that a picture of Usama bin Laden standing in front of the White House with the message "war has been declared" was found at one of the scenes and was matched to a photo found at Ayers' home.
In January, one of the devices Ayers allegedly planted detonated and injured a man's leg causing minor injuries, according to WYFF-TV. The man told federal agents that he heard a "hissing sound" coming from a wicker basket and when he opened it, flames shot out of a box and exploded, the station reported.
A month later, a teddy bear laden with explosives was left on the side of a road and FBI agents said the device was how they linked the bombs to Ayers, according to Fox Carolina. FBI agents said Ayers had a tattoo of a teddy bear with glowing red eyes and it was similar to the stuffed animal that was left on the side of the road, according to the station.
The FBI also said Ayers' fingerprints were left on some of the devices.
Ayers, who has no previous criminal history, was being held without bond. He faces life in prison if convicted.