Small plane crashes in California killing sheriff's deputy, pilot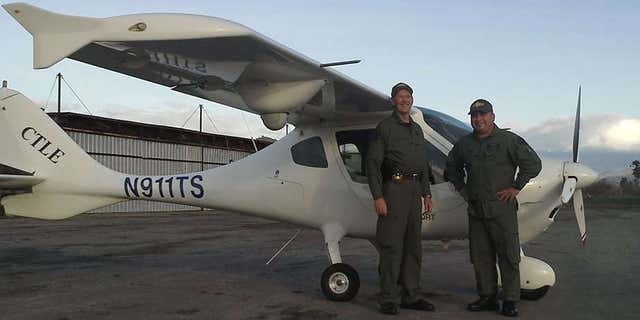 A sheriff's deputy and a civilian pilot assisting in the arrest of a California man were killed when their small plane crashed Wednesday.
Tulare County Sheriff Mike Boudreaux confirmed Deputy Scott Ballantyne and pilot James Chavez when the single-engine, two-seater plane crashed and burst into flames after hitting the side of a mountain near Springville.
The Tulare County aircraft was leaving an area near Springville after assisting deputies in the arrest of a suspect who had brandished a weapon when the plane crashed, Boudreaux said.
A distress call was not sent out and the parachutes the plane was outfitted with didn't deploy, he said, adding that it was too early to know what caused the plane crash.
"I can say this happened very, very quickly," Boudreaux said.
The FAA investigators will inspect the crash site Thursday and assist local authorities with the probe, he said.
The plane crashed near Eagle Feather Trading Post and Highway 190, which was closed for several hours, and several witnesses called authorities to report smoke billowing from a hillside.
Shawn Winter, a Springville resident, told the Fresno Bee he saw black smoke as he was driving down the hill to pick up his daughter from school.
"I saw the black color of smoke. There was a bid gold ball of flames," said Winter.
The Associated Press contributed to this report.