Slain doctor's body may have been in home for months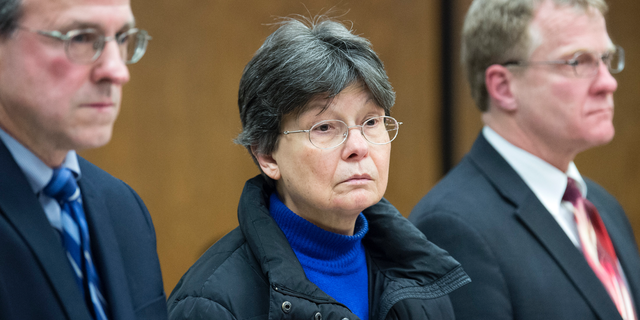 BRISTOL, Conn. – A University of Connecticut scientist was arraigned Tuesday on charges that she murdered her husband, a UConn doctor whose body may have been left inside their home since June.
Linda Kosuda-Bigazzi, 70, declined comment as she entered Bristol Superior court for the hearing on a murder charge in the beating death of 84-year-old Dr. Pierluigi Bigazzi. He was a professor of laboratory science and pathology at UConn Health, and she worked with him.
The arrest warrant has been sealed. The Hartford Courant reported that Bigazzi's body was wrapped up inside the Burlington home when police conducted a welfare check on Feb. 5. They went to the home after colleagues at the school expressed concern over Bigazzi's long absence.
The medical examiner said the doctor died of blunt trauma to the head. Court documents indicate police believe his death may have occurred as early as June 13.
Kosuda-Bigazzi is free on home confinement after agreeing to wear a monitoring ankle bracelet and posting a $1.5 million bond.
Kosuda-Bigazzi was the pathology professor's second wife. The Courant reported that investigators have asked Bigazzi's first wife for copies of alimony checks dating back to this summer to determine who wrote them.
"I don't know yet who signed the checks," Anna Bigazzi told the newspaper. "The state police asked me to request copies of the checks from the bank and I am waiting for them. I really haven't had any contact with my former husband in 40 years and I have no idea what is going on."
Pierluigi Bigazzi worked at UConn since 1975 and earned $200,000 last year, according to state records.
He and his wife had collaborated on more than a dozen journal articles, though some colleagues said they didn't realize that the two were married, according to the Courant.
Bigazzi last taught a course during the 2017 spring semester and was supposed to be working on projects that included updating the medical school's curriculum and academic instructional materials.
"This work can be accomplished from any location, and it was acceptable for him to work remotely," said Lauren Woods, a spokeswoman for the school. "This is why his absence from the campus would not have been noteworthy or cause for concern."
Staff at UConn Health attempted to contact Pierluigi Bigazzi about a routine administrative matter in January and contacted police when they had not heard back by February 5.
Woods said a UConn police officer conducted the welfare check and received no answer. He was then joined by a Burlington police officer and a state trooper and eventually made contact with Linda Kosuda-Bigazzi, who initially denied them entry to the house. Officers were later able to enter the home and found her husband's remains, Woods said.
The school said Kosuda-Bigazzi was employed by UConn Health from 1986 to 1998 as a science instructor and continued to volunteer at UConn Health assisting her husband.
She is due back in court on March 20.