Shrinking deer population in West spurs new push for answers, action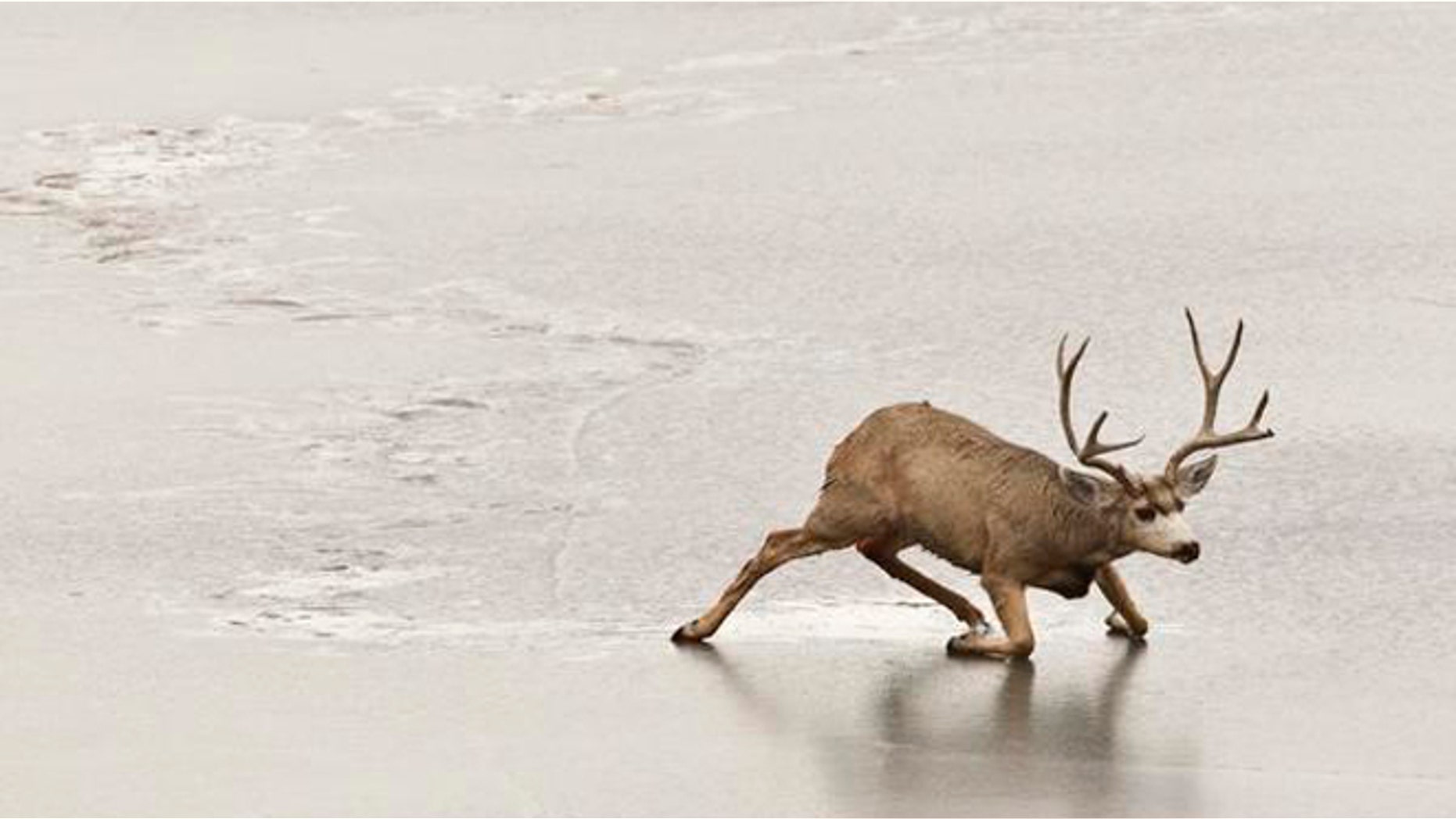 The number of deer in Colorado and other parts of the West is rapidly declining, including a 36 percent drop among mule deer in the Centennial State from 2005 through last year, and a reported drop of at least 10 percent throughout the region.
Brutal winters followed by extremely dry summers, loss of habitat due to commercial and residential development and predators like coyotes and mountain lions are factors in the decline, Matt Robbins, spokesman for Colorado Parks and Wildlife, told FoxNews.com.
"It's a culmination of things," Robbins said. "Weather has absolutely been a factor; we've had very harsh winters and then very dry summers, and we're always very conscious of chronic wasting disease, loss of habitat, highway mortalities, predators and oil and gas development."
[pullquote]
Robbins said the number of mule deer in Colorado — the primary species in the West — decreased to 390,600 last year, down from 614,100 in 2005. That's a drop of 36 percent, although Robbins said some of that decline may be due to changes in methods for estimating deer populations.
A summit hosted by state wildlife officials has been planned for Aug. 9 in Glenwood Springs to determine the best way to boost the deer population moving forward, Robbins said.
"We've tried to address it, but one of the things we're doing is embarking on the largest outreach to our citizens for their feedback," he said. "Priorities change based on regions throughout the state and this is not just a Colorado issue. It's a multi-state issue."
Across the West overall, the number of deer has dropped about 10 percent between 2003 and 2009, Arizona-based wildlife biologist Jim Heffelfinger told The Denver Post, which first reported the decline Monday. Attempts to reach Heffelfinger, who chairs the Western Association of Fish and Wildlife Agencies' Mule Deer Working Group, were unsuccessful.
"We certainly cannot have it all. We need to be smart about our wildlife habitat, especially our mule deer habitat and how we manage the population," he told the newspaper. "There are so many different things stressing mule deer around the West."
While deer aren't likely to face extinction any time soon, Heffelfinger said the trend does require action.
"You don't really like big, catastrophic fires — certainly where human structures are damaged," he said. "But we really need to open up the canopies for deer."
Jeffrey Schinkten, president of Whitetails Unlimited, a nonprofit conservation organization dedicated to the white-tailed deer, said that species is thriving in contrast, perhaps helping push the mule deer further West.
"In the East, there's some places where they've just totally exploded," Schinkten told FoxNews.com of the white-tailed deer. "They're a hearty animal and they've really adapted."
The white-tailed deer, Schinkten said, is a more aggressive species than its mule deer counterpart, named as such due to its large ears that make it resemble a mule. Whitetails are more inclined to roam river bottoms and woods, while mule deer primarily roam and migrate in open country that's being cut off in some Western locations by oil and gas production facilities.
Schinkten suggested that officials consider cutting back on its hunting licenses in Colorado, where hunters kill up to 40,000 deer annually.
"We get the opposite in the East," he said. "We're trying to encourage people to get out there hunting to control some of this population."
The recent surge of white-tailed deer was the subject of an August column by The Nature Conservancy that questioned whether the animal is a bigger threat to eastern forests than climate change.
"No native vertebrate species in the eastern United States has a more direct effect on habitat integrity than the white-tailed deer," The Nature Conservancy blogpost read. "There are no hard numbers, but in many states deer populations continue to rise well beyond historical norms. In many areas of the country deer have changed the composition and structure of forests by preferentially feeding on select plant species."
Theo Stein, a spokesman for the U.S. Fish and Wildlife Service, told FoxNews.com that mule deer are a state-managed species controlled by local carrying capacity and social concerns.
"However, mule deer are migratory — and they travel from their summering range in the high country to lower-elevation winter range, very often in sagebrush," Stein wrote to FoxNews.com in an email. "The Service is very concerned about the health of sagebrush, as it is fundamentally important for greater sage-grouse, which are a candidate for federal protection under the Endangered Species Act."
The most widespread vegetation in western North America, sagebrush is the dominant land cover on more than 190,000 square miles within sage-grouse range and is essential for more than 350 species, including deer, elk and pronghorn.