Shirtless suspect shot by Ohio officers, gets back up and charges cops in bodycam video
Police in Ohio have released bodycam footage of a shirtless suspect being shot, falling and getting back up again to charge at cops.
The suspect allegedly attacked a woman and fired shots into the air around 1.30 p.m. on Sunday in East Cleveland, according to police.
"Officers approached, they observed the male striking the female on the ground," Cmdr. Scott Gardner, of East Cleveland Police, told Fox8. "Immediately… as soon as officers got out of their vehicle the suspect charged one of the officers."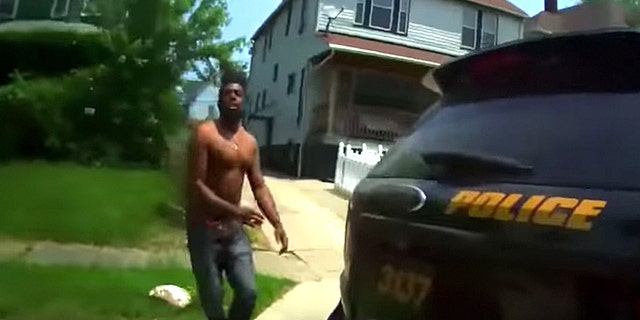 17-YEAR-OLD SHOT DEAD BY POLICE WHITE RUNNING AWAY FROM TRAFFIC STOP
The police bodycam shows officers arriving at the scene and getting out their SUV when they are confronted by the shirtless man, who immediately lunges at them.
One officer shoots the man, briefly incapacitating him and sending him to the ground.
But he immediately gets up and charges toward the two cops, only to be tackled to the ground, with both officers struggling to subdue and handcuff him.
During the brawl, one officer suffered an orbital eye fracture and another broke his hand. Both were treated and subsequently released from local hospitals.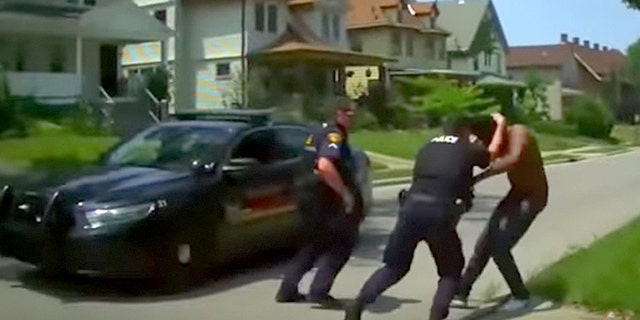 THREE-TIME SUPER BOWL WINNER ERIK WILLIAMS' SON CHARGED WITH DOUBLE-MURDER
One officer told another at the scene that he shot the man in the stomach.
Eyewitness Victor McCallum told Fox8 that he was nearly attacked by the same suspect before the initial altercation.
"This guy came out of nowhere and approached my car like he was going to attack me in my car so I backed up and went around him," he said. "It's not normal over here, it's very quiet over here. I don't know what he was angry about or why it came about."
The Bureau of Criminal Investigation is investigating the incident.