Several arrests made regarding threats against cops: NYPD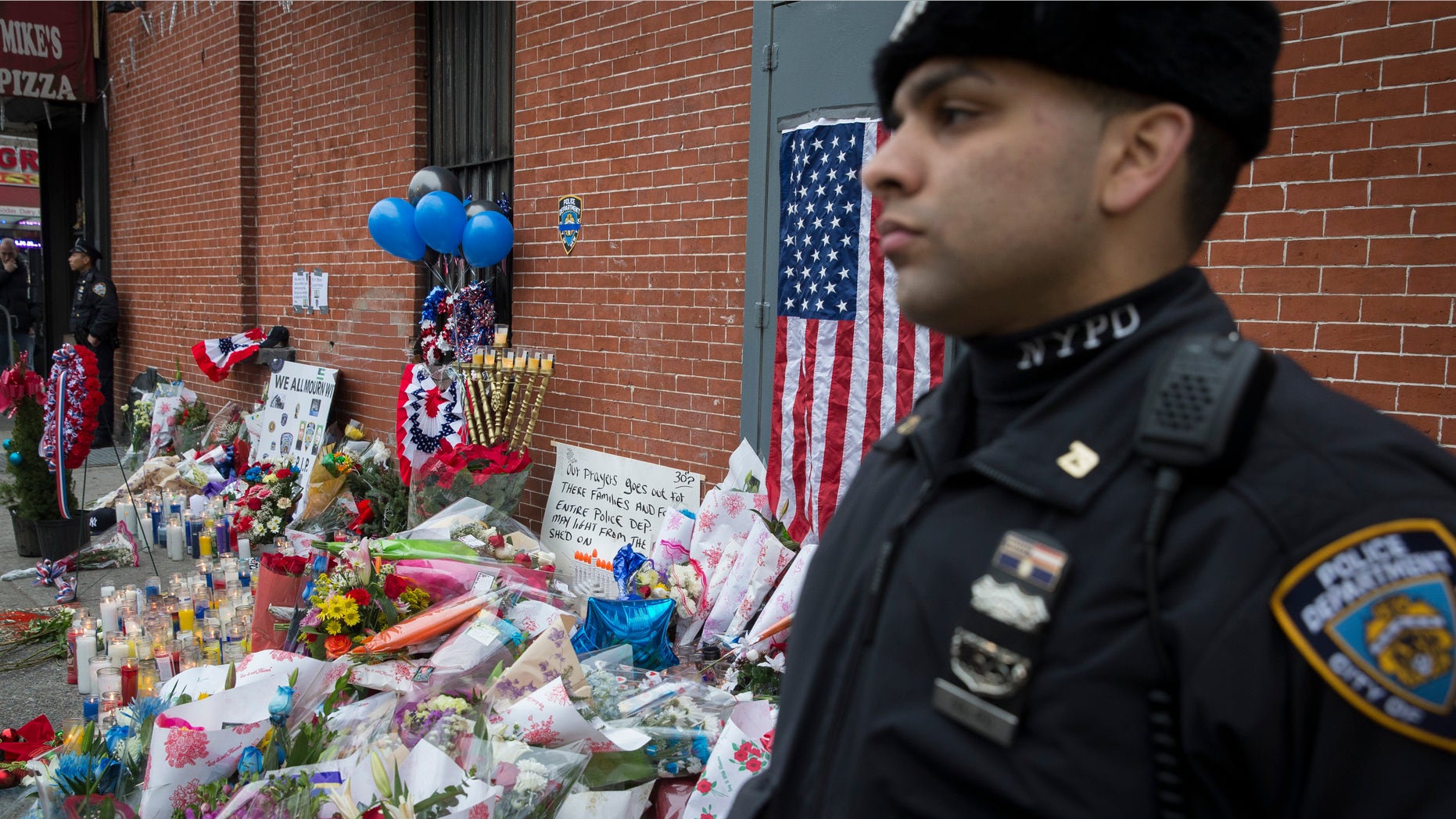 A total of seven men have been arrested in New York City for making threats to officers in the week since two NYPD cops were shot execution style.
The arrests occurred in the wake of an investigation regarding Ismaaiyl Brinsley, who officials say shot officers Wenjian Liu and Rafael Ramos in Brooklyn last Saturday.The NYPD said in a statement on Wednesday that they have been monitoring hundreds of postings on social media, as well as calls to 911, and found several who made threats to kill more cops.
"All threats against members of the NYPD are taken seriously and are investigated immediately to determine the credibility and origin of the information," a statement provided to FoxNews.com read.
It was last Saturday when Brinsley announced on his Instagram account his intentions to shoot and kill NYPD officers.
"I'm putting wings on pigs today ... they take one of ours, let's take two of theirs," Brinsley wrote along with posting a picture of his pistol. The gunman committed suicide after shooting the officers a few hours later.
Since the horrific double shooting, others have made threats in public and online but were arrested before any possible incident.
On Christmas Eve, Elvin Payamps, 38, of Glendale, Queens was inside a bank on Metropolitan Avenue when a witness standing behind him on line heard him say that he wanted to kill cops and that he had guns in his house.
[image]
The quick-thinking witness called 911, but Payamps had already left the bank before officers arrived.
Payamps was spotted getting into a car on Metropolitan Avenue and a description was put out over the city-wide radio system.
He was pulled over a short time later and was found with pot near the front seat and was arrested at the scene, NYPD officials said.
Officers then searched Payamps home after his spouse gave them permission and found one pistol, a pump-action shotgun, rounds of ammunition, brass knuckles, and two bulletproof vests.
Earlier in the week, others were arrested for making threats against the NYPD.
Devon Coley, 18, of Brooklyn and Robert Bovan, 52, were both arrested on Monday in separate incidents where they posted a picture of a man opening fire on a police car and making comments suggesting they wanted to do the same. They were both charged with making terroristic threats, NYPD officials confirmed to FoxNews.com.
On Wednesday—the same day Payamps was arrested—Tyrone Melville, 41, was arrested after he called the 84th precinct station house and asked if the bullets that killed Ramos were removed from his head so he could use them to "kill more cops," officials for the NYPD said.
26-year-old Jose Maldonado was also arrested on Wednesday for posting pictures of weapons on his page and threatening to kill more police officers. When he was picked up by the cops, he told them that he was drunk when he posted the messages, NYPD officials tell FoxNews.com.
Two others were arrested in the past week—one 16-year-old in Brooklyn and a 46-year-old man in Staten Island for publically making threats.
The news of the arrests comes on the day when funeral services begin for the two officers.
On Friday, hundreds are expected to gather in Queens for a wake for Rafael Ramos. Vice President Joe Biden is expected to attend his funeral on Saturday at the Christ Tabernacle Church in Glendale.
Services for Officer Liu have yet to be announced.
FoxNews.Com's Perry Chiaramonte contributed reporting to this story