Service held for cremains found in Detroit funeral home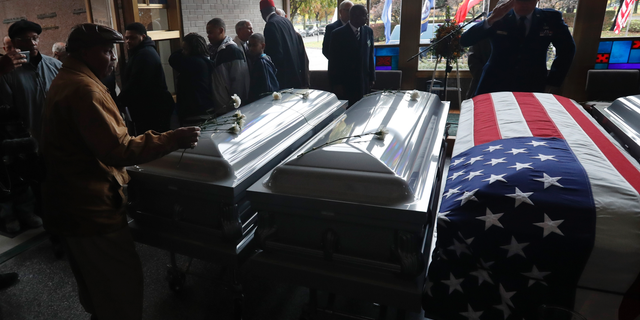 DETROIT – About two dozen people gathered Friday at a Detroit cemetery to remember loved ones whose cremated remains were recovered from a local funeral home after it was shut down by the state for improperly storing bodies.
Clergy solemnly read aloud the names belonging to most of the cremains, but more than 50 only were listed as "unidentified loved one" during the service at Mount Olivet Cemetery.
"These men, these women, children, soldiers are important to us," said the Rev. Louis Prues. "True, we might never have known them until today, and you could have forgotten them, but we've chosen not to forget them."
Placed in five caskets, most of the remains will be interred at Mount Olivet. About 20 others — identified as military veterans — were in a flag-draped coffin and are expected to be buried at a national cemetery in Holly, Michigan.
All of the remains were found earlier this year at Cantrell Funeral Home in Detroit, which had its license suspended in April after inspectors found bodies covered in what appeared to be mold. Inspections also turned up an unsanitary embalming room, and that the funeral home was operating with an expired prepaid funeral and cemetery sales registration.
Remains of Darlene Hardison's father, Hoover Heags, were at Cantrell for about a year; her uncle's remains, about two years.
Heags and Arthur Hardison both died of heart failure, said Darlene Hardison, 46, who knew the funeral home still had the remains.
"I didn't want to bring the remains home," she said. "To me, that felt morbid. I wanted to, but I just couldn't."
Speaking through tears, Hardison called the identification of the remains and Friday's service "the best thing ever."
"God works. He's real," she told reporters. "It may not have been the way we thought it was going to happen, but He gave us closure."
Eddie Bannerman died in 2006 at age 67. His sister, Lizzie Davis, learned this year that his ashes never left Cantrell. Her family was one of the many contacted by Verheyden Funeral Homes, which was working with the state to identify the Cantrell cremains.
Miscommunication among family members resulted in Bannerman's remains staying at Cantrell, Davis said.
"One of my brothers told me he was going to go to Cantrell's and pick them up, so I assumed that's what he did," Davis said following Friday's service. "The brother that was supposed to pick up the ashes, he died. So, it left it in limbo."
Verheyden Funeral Homes provided identification of the remains at no cost, and worked with the cemetery on Friday's interment.
"We're doing the right thing. We're doing our normal operations," Verheyden owner Brian Joseph said. "For us, we need to find a home for each of these people."
Detroit police also are looking into possible criminal charges against Cantrell's operators after mummified remains of 10 fetuses and a full-term infant were discovered last month beneath insulation in a ceiling at the building. Those remains are part of the police investigation and were not included in Friday's service.
Meanwhile, a separate police investigation is looking at the Perry Funeral Home in Detroit where more than 60 fetuses where found last month in boxes and freezers.