Series of accidents dampen Halloween activities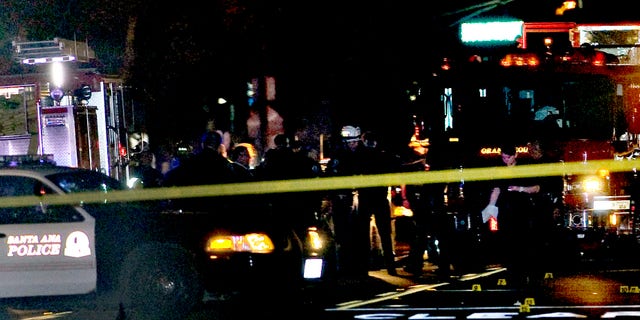 NEWYou can now listen to Fox News articles!
A series of accidents marred Halloween activities Friday night.
An SUV struck and killed three teenage girls, including twin sisters, while they were trick-or-treating in the Los Angeles area. Police are looking for the driver and his passenger.
The 13-year-old girls were in a crosswalk near an elementary school in Santa Ana when the driver hit them. Two of the girls were declared dead on the scene while the third girl died just as paramedics were preparing to take her to the hospital.
The scene was "very sad," he said, "when millions of children, teenagers and adults are out trick-or-treating on a wonderful evening to insert tragedy like this."
Police were seeking two men from an SUV that hit the girls, police Chief Carlos Rojas said at a media briefing.
The SUV was found abandoned near the scene, but the suspects had not yet been found, Rojas said.
Police spokesman told the Los Angeles Times the vehicle was traveling at a high speed. A crowd of more than 200 people watched as police gathered near the area.
Also Friday night, authorities in Washington state said two 7-year-old girls and a 20-year-old woman sustained life-threatening injuries when they were hit by a car while trick-or-treating in Vancouver.
The Columbian reports a car jumped a curb and hit the trio.
A 33-year-old woman with them and the car's 47-year-old driver, who remained at the scene, had less serious injuries.
In New York state, a 3-year-old boy was killed and a 16-year-old girl was seriously injured Friday night when they were hit by car while trick-or-treating. The car struck the boy and then teen as they were crossing a two-lane road near Rochester at about 9:40 p.m., police said. They said the driver is cooperating in the investigation and has not been charged.
The Associated Press contributed to this report.