Satanists' plan to stage 'black mass' in Oklahoma City sparks outrage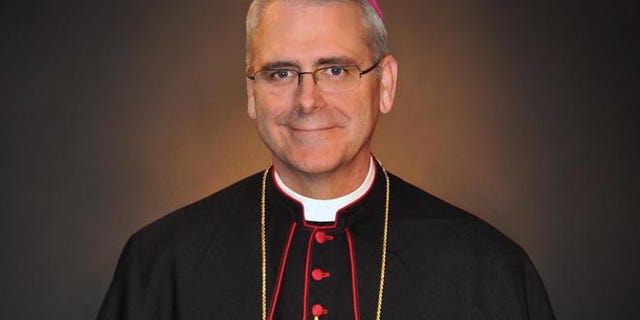 NEWYou can now listen to Fox News articles!
Satan worshippers are planning to stage a "black mass" next month in Oklahoma City, prompting outrage from the leader of the city's 120,000 Catholics, who also condemns municipal officials for allowing the event to be held in a public venue.
The event is being staged by the satanist group Dakhma of Angra Mainyu at the Oklahoma City Center Music Hall on Sept. 21. The group's leader is a registered sex offender.
Lawyers for Oklahoma City's municipal government say the occultists have a right to lease the public space under the First Amendment.
"I'm disappointed by their response," Archbishop Paul Coakley of the Archdiocese of Oklahoma City told FoxNews.com Friday. "If someone had come to them to rent the Civic Center to stage a burning of the Koran or to hold an event that was blatantly and clearly anti-Semitic, I think they might find a way to prevent it.
"Not all speech is protected if there is hate speech and it is intended to ridicule another religion," he said. "I don't believe it is a free speech matter."
Coakley urged churchgoers in an open letter this week to offer a prayer to St. Michael the Archangel at the end of each Mass from now through Sept. 29 to "counteract this challenge to faith and decency."
"This Satanic ritual is deadly serious," he wrote. "It is a blasphemous and obscene inversion of the Catholic Mass. Using a consecrated Host obtained illicitly from a Catholic church and desecrating it in the vilest ways imaginable, the practitioners offer it in sacrifice to Satan."
On Thursday the head of the Tulsa Archdiocese, Bishop Edward Slattery, issued a similar message. He urged his parishoners to fast and pray for the event's cancellation.
Coakley told FoxNews.com he could not just ignore what the satanist's planned to do even though their event in the Civic Center's 92-seat basement theater has sold only 13 tickets to date. The satanists are also planning an exorcism to rid a person of the Holy Spirit.
"They intend to commit an act of blasphemous sacrilege against the Catholic Eucharistic host," the archbishop said. "It is my duty to prevent this blasphemy from taking place in a public venue."
On its website, Dakhma of Angra Mainyu says the black mass at the Civic Center has been toned down to allow it to be performed in a public government building. "The authenticity and purpose of the Black Mass will remain intact while allowing for slight changes so that a public viewing can occur without breaking Oklahoma's laws based on nudity, public urination and other sex acts," the website says.
The group paid $420 to rent the theater. Its self-described high priest is Adam Daniels, 35, of Oklahoma City.
He acknowledged in an interview with "The Oklahoman" news paper last month that he was a registered sex offender. He said he was convicted in 2009 for an inappropriate relationship with an inmate at a prison where he worked as a correction officer.
The Oklahoma sex registry says Daniels' physical identifiers include satanic tattoos all over his body.
Kristy Yager director of public information for Oklahoma City's city manager, told FoxNews.com a police officer will be assigned to the black mass event.
"If there's a law broken we will be there," she said.
She said the city manager had received thousands of emails and many phone calls urging the event's cancellation.
"We empathize, we understand where people are coming from," Yager said. "There's just nothing we can do without bringing a lawsuit which we would surely lose."