San Francisco train shooting leaves one dead, another wounded; manhunt underway
The gunman fled the San Francisco train after the shooting in the city's Castro neighborhood
NEWYou can now listen to Fox News articles!
Two people were shot, including one fatally, when a gunman opened fire on a Muni train in San Francisco Wednesday morning.
The suspect fled the train at Castro station around 9:54 a.m. and is still on the run, though Supervisor Myrna Melgar said it is not an active shooter situation.
One of the victims was pronounced dead at the scene. The second wounded victim was transported to a local hospital with non-life-threatening injuries, San Francisco Police Department Commander Raj Vaswani tweeted.
A heavy law enforcement presence could be seen outside the Castro station investigating the shooting.
SAN FRANCISCO CITY BUS STRUCK BY SUV; 6 HURT, INCLUDING TWO IN CRITICAL CONDITION
San Francisco police described the suspect as wearing dark clothing and a hooded jacket.
"They fled from the station, but based on the information we have there is no need for any lockdown or shelter in place," the police department said.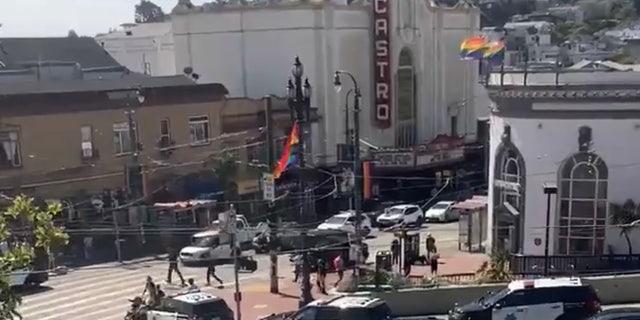 Police spokesperson Kathryn Winters told reporters at the scene that the incident is unrelated to pride events that are scheduled in San Francisco this weekend.
CLICK HERE TO GET THE FOX NEWS APP
"I just really want to assure, again, our LGBTQ community members and those who are visiting our city from around the world for San Francisco Pride, that this incident does not appear to be related to pride or targeting the LGBTQ community," Winters said.