Road to Recovery: What's Working - Wind Turbines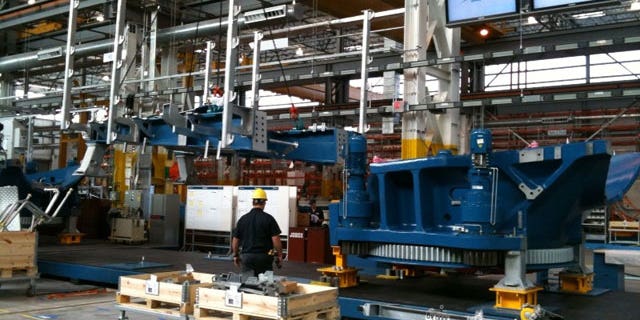 NEWYou can now listen to Fox News articles!
A handful of high tech workers are assembling a giant jigsaw puzzle. It may not look like much now, but soon it will become the finished housing for a wind turbine engine. The group of workers assembling it was hand-picked and trained in Germany by a German company called Nordex. These workers will soon be doing some of the training as Nordex USA expands in Jonesboro where the company plans to add up to 700 jobs in the area by 2014.

Workers here couldn't be happier. They're getting paid an average of about $17 an hour and they're working at a state of the art facility.
Brad Scott is one of them. Before being hired at Nordex, he was out of work for a year and a half, after a Chinese company closed its factory and moved his job overseas. "I went to unemployment, about half of what I was making a week, " says Scott, "so it was a pretty tough struggle." Now Scott's back on the job, in one of the teams doing precision work on the generator housing.

The Jonesboro plant has been in the works for about two years. Nordex is one of a handful of European companies leading the charge for wind energy expansion in the U.S. One of the reasons the company picked Jonesboro was for its central location.
According to Joe Brenner, Nordex USA's VP of Production: "We currently have projects on the east and in the north and potential projects all over the country. So we are positioned perfectly to fill the needs throughout the United States." Brenner told Fox News that partnerships with the local university and a community college also helped assure future cooperative research and a trained workforce.

Nordex USA's President and CEO, Ralf Sigrist, says wind energy is the future. Now he just has to convince the rest of the U.S. that what Europe has been doing for years is how America can fill part of its expanding energy needs. Wind energy, says Sigrist, has high upfront costs but low costs over time. To be profitable, wind energy companies sign long-term fixed rate deals. They may not be the cheapest energy right now, says Sigrist, but the deals could be very competitive over time given the price volatility of fossil fuels.
Click here for more Road to Recovery Stories from Foxnews.com