Rise of Freedom: Twin Tower Steel Rises Again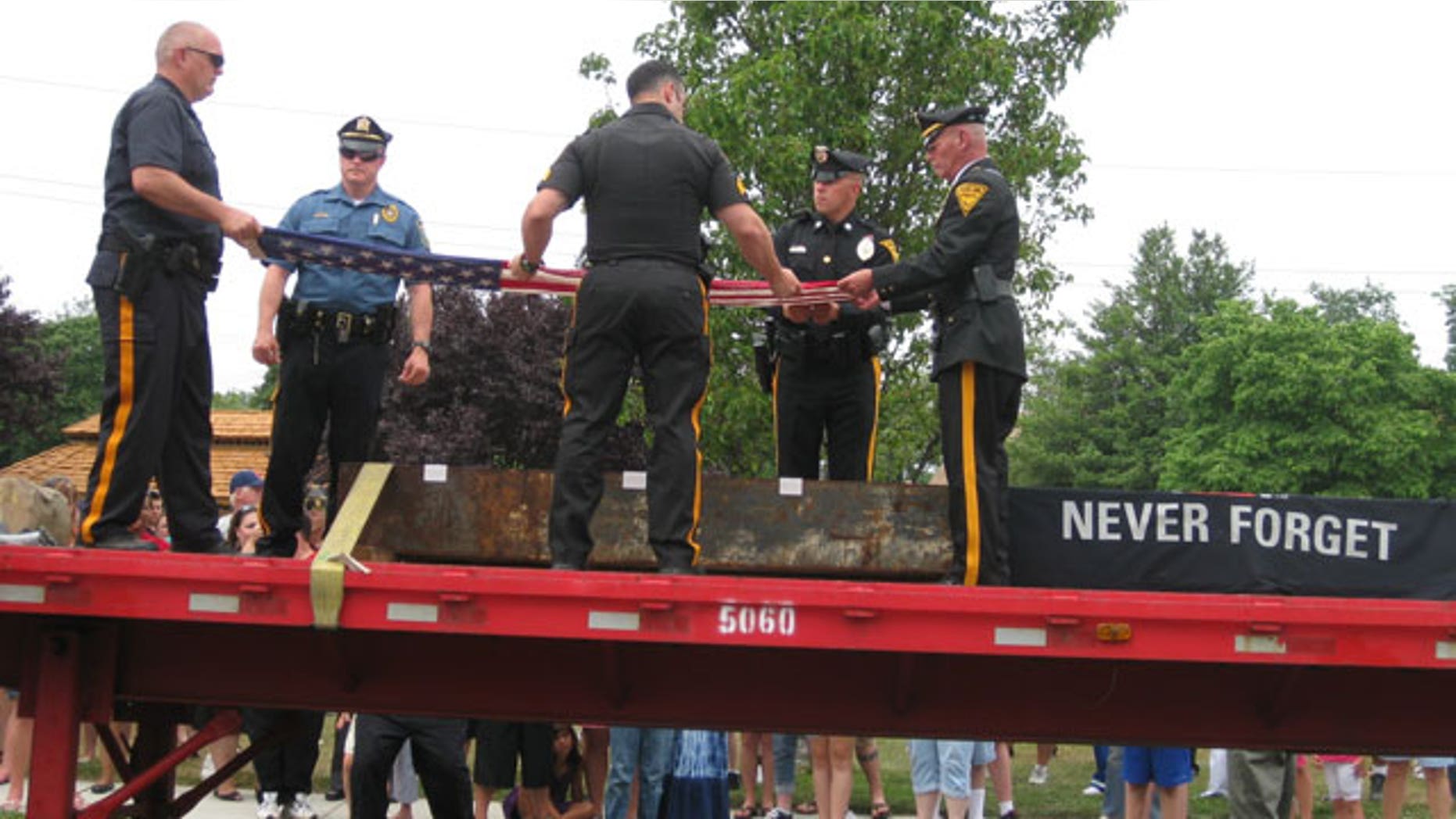 The Twin Towers are rising again, as part of Sept.11th memorials around the world.
Piece by piece, the Port Authority of New York and New Jersey is giving away massive metal beams and other steel artifacts that were once part of the World Trade Center's North and South Towers.
"We saw an outpouring of requests from towns and colleges and fire departments all across the country and across the world," says Port Authority deputy executive director, Bill Baroni. So, the agency that built the Twin Towers decided to dole out 15,000 linear feet of steel that was removed from Ground Zero.
The Port Authority received about 1,500 requests. One thousand eighty three of those requests were approved by both the Port Authority and a judge at the Federal Court in Manhattan.
"Each and every piece of steel, each and every artifact, is evidence of a crime... the crime that existed and took place on September 11th, 2001," says Baroni, explaining the approval process. "We want to make sure the steel is going to be open to the public. It has to be done in a dignified, open manner that people for generations will be able to see it."
Teams of police officers, fire fighters, and local politicians from across America are coming to New York's John F. Kennedy airport several times a week this summer to pick up their steel from a Hangar 17, where it has been stored since 2001. They drive from near and far, often with police car and fire truck escorts. They drape the steel in an American flag, treating it with the same respect they would any fallen hero.
"To keep my composure, I'm trying to think about what good these artifacts will do rather than try and dwell on the past… on what I, and thousands of other Americans and rescue workers, New York residents and so forth had gone through," says Captain Steven Saymon of Brooklawn, N.J., who responded to the World Trade Center on Sept. 11th. "It's time to reflect, time to remember, and time to move forward."
Some of the steel memorials are already in place, like in Hillard, Ohio, Grand Junction, Colo., and Milan, Italy. But most, like that in Brooklawn, N.J. will be unveiled at 10th anniversary ceremonies in September.
Capt. Saymon spearheaded Brooklawn's effort to create a 9/11 monument. Along with the WTC steel, it will also contain a piece of damaged stone from the Pentagon, and soil from near the Flight 93 crash site in Shanksville, Pa.
"People in crisis, they'd be invited here," says Captain Saymon. "Bring a lawn chair, sit on a bench, sit back and reflect, 'Do I have it really that bad?' and hopefully it will change their perspective. "
The sight of the massive steel beams on the back of flatbed trucks stops some people in their tracks, as the steel makes its way to final resting places across the country. Service members salute. Mothers explain the steel's significance to children who were not yet born nearly 10 years ago.
"This is part of our history," says Monica Steele of Toledo, Ohio. "I really felt that I needed to bring our kids down and see it."
Some come to touch the rusted, mangled beams and pray. Others come to feel closer to loved ones lost that Tuesday in September.
"He was on the 104th floor of the North Tower the morning of 9/11" says Sally Trant of Tampa, Fla. "Makes me reflect a little bit and wonder if it was where my brother was."