Rise of Freedom: A World in Miniature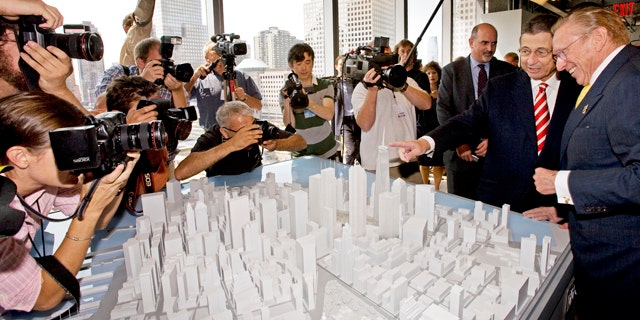 NEWYou can now listen to Fox News articles!
We live in a time when dead celebrities can appear in TV commercials; a world where computers can bring us to imaginary worlds like Avatar's Pandora; an age where animators can create such detailed images that you'd swear you're looking at something real.
While completion of New York's One World Trade Center is still years away, thanks to the long-practiced art of model-making we can now catch a glimpse of what the rebuilt financial hub will look like in final form.
"[A model] allows the viewer to choose their own view; to look from above, to look from below, to walk around 360," Ed Wood, part owner of Radii Inc. told Fox News. "It's a physical object that can be held in the hand, and can't be replaced with a rendering or even a beautiful animation."
Wood and his partner Leszek Stefanski construct scale models of buildings and structures at their studio in Hoboken, N.J. and have recently spent time modeling the new World Trade Center.
While they've worked on numerous other buildings and structures, this project isn't just another job.
"To have the opportunity to do my part, our part in the rebuilding effort, I'm grateful for," Wood said. "I think it's very close to home for me personally and my partner Leszek. We felt helpless on that day like most everybody did, and we were fortunate to be able to offer something in the rebuilding process."
The model-building process is complex, time consuming and precise, with some taking as long as 1,500 hours to build. They are built to scale and that precision begins by shrinking the building's actual plans down to the size of the model.
"It's extremely precise," Wood said. "A scale model, especially one that we make, it doesn't get clunky or heavy when it's reduced to a smaller scale. We use lasers. The width of the laser beam is six-thousandths of an inch, the width of a human hair, and that can be huge, a huge dimension at some of the scales we're working at."
One World Trade Center will eventually be 1,776 feet tall. One might think it impossible for the untrained eye to see something wrong on the scale model of a building that will be so large, but Wood is quick to point out that the human eye is very good at sensing when something is wrong.
"I think it's like looking at the human face; if the nose is a little bit to one side, or if there's something wrong with the proportion in a drawing, it's picked up and it's perceived," he said.
To see the model take shape, the latest segment in the Rise of Freedom series, tune into Fox Report with Shepard Smith tonight at 7 p.m. ET. Can catch up on all the segments by visiting www.foxnews.com/freedom. To learn more about Radii Inc. and see more examples of their work visit: http://radiiinc.com