Rise of Freedom: Steel Travels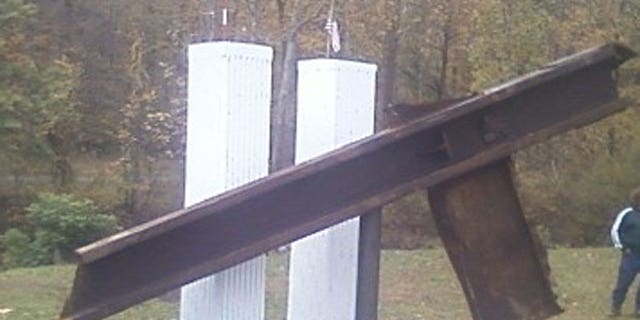 A six thousand pound piece of burned and twisted steel that looks like it could be scrap metal sits in the parking lot of the American Legion post in East Greenville, Pennsylvania.
Todd Nelson, the local commander of the Sons of the American Legion tells Fox News that the steel is anything but scrap. "That's a hallowed piece of steel...to us, our community and to our country, that is the most valuable steel you will ever get your hands on." The 15 foot long piece of steel survived the September 11th terror attacks on the World Trade Center in New York City that killed nearly three thousand people. Todd explains, "it's one of the main columns that supported the twin towers."
Nine years after the buildings were destroyed, this steel will be the centerpiece of a local 9/11 memorial. Local residents are coming together to donate time and materials to build the memorial. Sean and John Kreuz are thrilled to donate what they say is a one thousand dollar job - providing a concrete cover for the walkway and other parts of the memorial.
Sean explains his motivation. "For 3000 people who just went to work one day - they just went to work and they ended up never coming home...This is our little piece of what we can do so that my kids can say we won't forget what happened."
What happened on September 11th directly affected local resident Erich Maerz who says he still gets teary eyed when he talks about that fateful day. His older brother Noell was a bond trader on the 84th floor of the South Tower. After the first plane went into the North Tower, the two brothers talked. "We were talking he said Erich it's total mayhem - people were jumping out of the buildings and you could hear people screaming...We talked about a minute - we said we loved each other and hung up the phone."
That was the last time that Erich talked to his brother. A second plane hit the South tower just minutes later. Noell Maerz left behind a wife who was expecting their first child. His daughter was born six weeks after he was killed in the terrorist attacks. Erich thinks about him daily, "...there's not a day that goes by that he's not on my mind. What I wouldn't do to bring him back and give him a big hug and tell him that I love him."
Noell Maerz is one of thirteen people from the local area who died on September 11th.
The local Sons of the American Legion started their plans for a September 11th memorial a year ago. They found out that items recovered from the world trade center site - including some 1000 pieces of steel - were being stored in Hangar 17 at JFK airport in New York. They applied for and acquired a piece of the twin towers for their town.
Earlier this month they organized a motorcycle motorcade that they say stretched some seven miles long to escort the hallowed steel from New York to its new home at the American Legion Post in East Greenville.
The bike coordinator John Kramsey tells Fox News, "I was the first motorcycle in the line and I cried the whole way home."
The group's commander Todd Nelson say the steel is a reminder that America will survive.
The memorial will open on November 13th - the week of Veteran's Day.