Residents at epicenter of Harvey's landfall return to heartbreaking devastation
Saturday evening brought milder weather to Cuero, a town about 75 miles from the storm-battered Gulf Coast of Texas. But there was little comfort for about 150 people who were evacuated from a collapsing hotel.
Their emergency shelter at Cuero Intermediate School lacked adequate amounts of food and other supplies, the San Antonio Express-News reported.
"All we're hearing is bad stuff, and then we have to try to keep calm," evacuee Brandi Patterson, 24, told the paper. "We're scared we're not going to have a home anymore. It's terrifying."
"All we're hearing is bad stuff, and then we have to try to keep calm. We're scared we're not going to have a home anymore. It's terrifying."
Hurricane Harvey, which made landfall in Texas late Friday, was downgraded to a tropical storm Saturday, but emergency response officials were warning residents not to let down their guard.
"The storm is not gone," spokeswoman Cyndi Smith of DeWitt County's emergency operations center told the Express-News. "We'll continue to get rain and winds for the next 48 hours."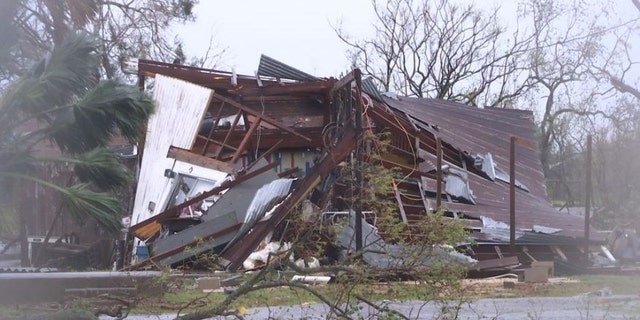 The prospect of more trouble for southeast Texas had cities and towns doing their best to minimize fading Harvey's residual impact. Areas along the surging Guadalupe River were being evacuated, while Cuero instituted a curfew, with everyone off the streets from 9 p.m. to 6 a.m., the newspaper reported.
In San Antonio, the city's Transportation and Capital Improvements Department tweeted a list of streets that were being closed because of heavy flooding.
San Antonio Mayor Ron Nirenberg assured residents that anyone seeking emergency shelter would not be turned away.
Besides heavy rain and flooding, tornadoes were another safety concern.
Mike Seidel of San Antonio's Fox 29 tweeted a viewer's footage of a tornado striking Cypress, Texas.
Along the Texas coast Saturday, residents who fled in advance of Harvey returned to find homes and businesses destroyed, and streets littered with telephone poles, downed wires, street signs, RV's, house siding, and even roofs that had been ripped off in one piece.
Harvey made landfall between Port Aransas and Port O'Connor at 10 p.m. Friday. Port Aransas and the nearby coastal town of Rockport looked eerily similar Saturday morning after the worst of the storm had cleared and the damage became visible.
It appeared strong wind gusts caused the most destruction.
On Route 35 between Port Aransas and Rockport there were homes and trailers destroyed. Nancy and George Collins stared in disbelief at their home, which had crumbled. They said they have no insurance and no way to rebuild.
"We have a camper that survived it. At least we have something to live in. A lot of people don't," said Collins. "It's everything we had."
Emotions ran high for many people who lost their precious properties.
"The high winds took the roof right off of it," said Tom Walker, who owns an auto parts store in Rockport.
He was rained on as he stood inside his warehouse. The roof was ripped off overnight and the wind threw his products all over the floor.
"We'll rebuild. It'll take time, but we'll get there," he said.
Walker didn't expect the storm to be so strong. He stayed in his house and said all night the wind was pushing the doors, and trees were falling left and right.
"If another storm comes I'll get out of town," he added.
Don and Misty Kimbrough walked through their business to find inventory lists for an insurance claim as pieces of their ceiling fell down around them. Their roof was compromised by the storm and inches of water poured inside.
"Most of the merchandise looks like it's ruined. It got wet once we lost some of the roof, not all of the roof," said Don.
Don isn't sure if he'll be able to open his business again. He was choked up thinking that this might be the end of the store where he's made a living for the last 26 years.
"We've had this building since 1969. We did not have this much damage from Celia. It's kind of a surprise. I really didn't expect this much damage," he said.
But although potentially losing the businesses is difficult, Misty said she was just happy her home and family were safe and thanked God for that.
"This is just stuff," she said.