Reporter's Notebook: Protests greet Trump in Pittsburgh after synagogue massacre
PITTSBURGH – President Trump visited the Pittsburgh synagogue where 11 people were killed and six others were injured in a mass shooting Saturday over the objections of local officials who said this was not the time for him to come to the city.
Trump, his wife Melania, daughter Ivanka and son-in-law Jared Kushner arrived Tuesday afternoon. No local dignitaries met them at the airport. A spokesman for Pittsburgh's Democratic mayor, Bill Peduto, claimed that the city did not have enough police to "provide enough protection at the funerals and to be able at the same time draw attention to a potential presidential visit."
Two large demonstrations coincided with Trump's visit to the Tree of Life synagogue in the Squirrel Hill neighborhood of Pittsburgh, where Saturday's massacre unfolded. One of the groups organizing the protest said they had three primary goals: educating the public on the Jewish grieving process, demonstrating that anti-Semitism is not acceptable in Pittsburgh and sending a message that President Trump is not welcome in the city.
"President Trump's words, actions and policies have espoused and emboldened the type of violence and hatred our community so tragically endured with the massacre of 11 Jews in their place of worship," one group organizing the protest said on Facebook. "The President's visit on Tuesday, much like his ideas and his presidency, is unwelcome in our city and in our country."
Timothy Adams, a Squirrel Hill resident, told Fox News that he was at the protest to remind Trump that "words have weight" and that "[Trump] should know that he's not welcome here. You can't preach hate and then expect a warm welcome."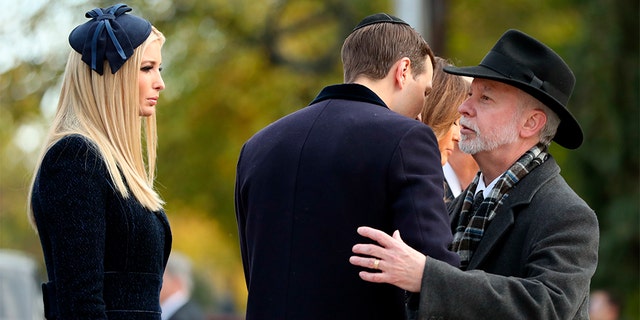 Most of the crowd was dressed in black. Some carried flowers, others carried signs reading: "No place for hate." A large light blue sign carried at the front of the protest told Trump to "stop targeting and endangering all minorities."
Nicole Watson, who attended the protest, said that despite her politics, she appreciated the magnitude of Trump's visit. "Look, it's time to heal. Should [Trump] watch his words? Yes. But he's here. He's our president. And right now, this community needs to come together."
The Trumps and Kushner were accompanied to the synagogue by Treasury Secretary Steven Mnuchin and Ron Dermer, Israel's ambassador to the United States. They were met there by Tree of Life Rabbi Jeffrey Myers. Outside the building, the first couple placed white roses and stones from the White House at a makeshift memorial for each of the dead.
As the president left the synagogue, chants from protesters using megaphones could be heard as they marched toward the building. The march was stopped about a half a block from Tree of Life, close enough for protesters to hear the sirens from Trump's motorcade as it pulled away though they couldn't see the president. When they heard the sirens, several people dropped to their knees while others turned their backs to show their objection to the president's visit.
Earlier in the day, funerals were held for four of the 11 victims: Dr. Jerry Rabinowitz, Daniel Stein and brothers Cecil and David Rosenthal. Funerals for the other seven victims are scheduled to take place through Friday.
"I hope Trump's aware that more than 1,000 people stood in line for David and Cecil's funeral," protester Ron Terry told Fox. "They loved Pittsburgh and we showed up for them. This [protest] is to show Trump that we aren't welcoming him with open arms. We don't want him here."
Another protester, who refused to give her name, shouted, "Go back to Washington!"