Reporter's notebook: Miami Beach keeps residents out as Irma cleanup begins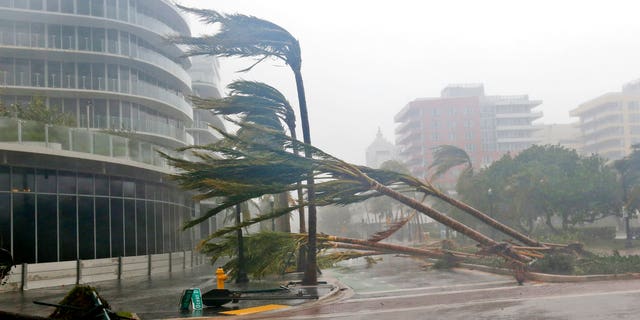 Miami Beach residents and business owners who were looking to return to their city one day after Hurricane Irma tore through it were out of luck on Monday.
No one except emergency management personnel was allowed to enter until Tuesday – at the earliest. Those who tried were turned around by law enforcement officials stationed at each of the city's entrances.
"If you leave the city please remember that you will not be permitted to enter until Tuesday at noon," Miami Beach officials said late Sunday.
Sure enough on Monday, police vehicles were lined up at each of the city's entrances and turned away frustrated residents, some who begged police to let them in.
It was a no-go for Orlando Ruiz, 48. He, along with his wife and three children, left their home in Miami Beach ahead of the storm.
"We haven't been home since Thursday," Ruiz said. He tried pleading with the officers but was told he could come back Tuesday at noon.
Those who decided to ignore evacuation orders were asked not to leave their homes until city workers cleared the area of downed power lines, repaired gas leaks and removed mountains of debris.
As the sun rose Monday, Florida Power & Light said 2 million of the 2.7 million homes and businesses in south Florida were still without electricity.
The streets were simply a mess. Uprooted palm trees and debris where thrown around, littering street after street. In some areas, there was still significant flooding with cars stuck and stalled trying to go through.
Despite orders to stay put, some people took matters into their own hands.
By midafternoon, a lot of tourists and residents were out and about.
"We've been cooped inside for days," Atlanta resident Kay Redman told Fox News near Biscayne Bay. "This was supposed to be my bachelorette party. We rented a condo and were told we couldn't go outside, go to the beach or go shopping. It's sunny out today. We're going out."
Redman's group didn't really have a plan for what to do since businesses were closed. I told them about a possible Monday night curfew too. They weren't happy.
Around 4 p.m., a handful of stores had reopened, including Price Choice Supermarkets, where Jane Colgine and her daughters Lily Ann, Winter and Kerri were picking up some essentials -- cereal, fruit and wine.
Down the street, two pizza shops, a Subway and another restaurant had opened its doors to customers with lines out the door.
Near the Port of Miami, bikers, people on skateboards and families took some time to take in the view -- and the damage.
Miami Beach Mayor Philip Levine reiterated in a statement Monday that many roads remained unsafe, as first responders worked to clear the roads.
"On behalf of myself and our entire City of Miami Beach government, we are with you now and throughout the recovery process," Levine said.
Once the city gives the all-clear, officials will start the re-entry process, beginning first with residents, then business owners, their employees and finally contractors.
Residents will be asked to show a state ID or other documentation showing proof of residency in Miami Beach. Business owners, their employees and contractors must supply the proper documentation they were given ahead of the evacuations.
Miami Beach schools will also be closed until further notice. The airport is expected to open Tuesday with limited service.
On Sunday, Hurricane Irma's punishing winds were to blame for two cranes in the city collapsing, as well as glass panels from an 85-story high-rise plunging to the ground. A third crane collapsed in Fort Lauderdale.