Report says deputy shot Calif. teen before partner could leave cruiser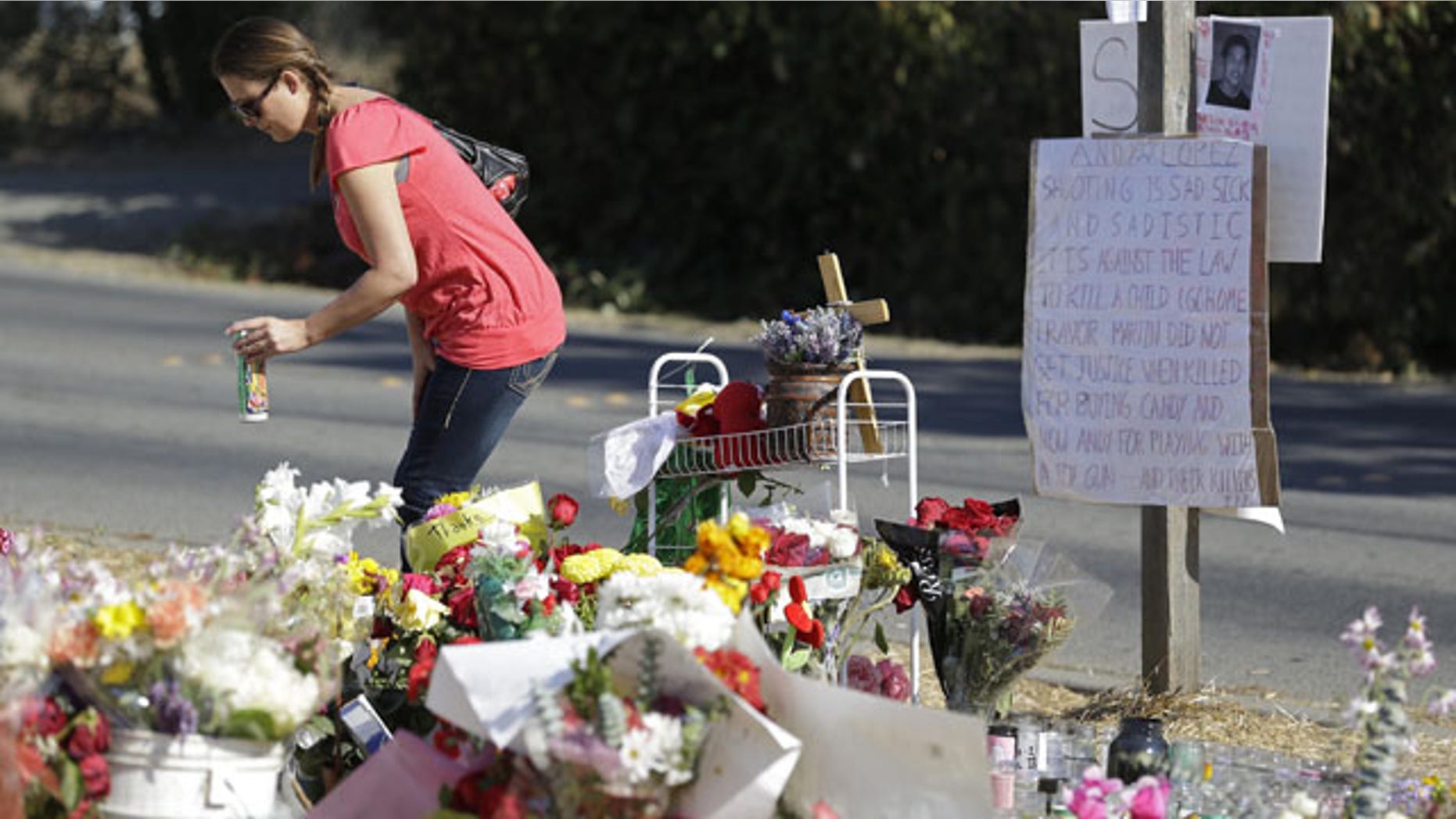 Demonstrators in a Northern California town are protesting the shooting death of a 13-year-old boy by a sheriff's deputy, with some calling for the officer to face charges.
Andy Lopez was fatally wounded in Santa Rosa by Sonoma County Sheriff's Deputy Erick Gelhaus on Oct. 22, after he reported a suspicious person to dispatchers.
Investigators said that the shooting happened before a second officer was able to get out of the patrol vehicle and take cover, bolstering accounts of just how quickly the shooting occurred.
The second officer remained behind the wheel of the cruiser while Gelhaus confronted Lopez, who was carrying a pellet gun that resembled an assault rifle, Santa Rosa police Lt. Paul Henry told the Press Democrat in a story Tuesday.
In a matter of seconds, Gelhaus ordered the boy to drop the weapon then opened fire before the other officer, a trainee, could take cover behind an open door of the car, Henry said.
The trainee's account bolsters eyewitness reports and dispatch records that only 10 seconds or so elapsed between Gelhaus confronting the boy and the shooting.
"Deputy Gelhaus was able to engage more quickly because he didn't have to drive the vehicle," Henry told the newspaper.
The FBI, Santa Rosa Police Department and Sonoma County prosecutors are investigating the shooting. The FBI is looking into whether any federal civil rights violations occurred.
Hundreds of people showed up for a peaceful march in Santa Rosa on Wednesday evening, with some calling on officials to file charges against Gelhaus in the killing.
Henry and Sonoma County Assistant Sheriff Lorenzo Due±as didn't immediately return phone calls Wednesday from The Associated Press.
Investigators have said Gelhaus feared for his safety after Lopez turned around and allegedly raised the pellet gun in his direction. Gelhaus fired eight times, striking the eighth- grader seven times with his department-issued 9 mm handgun.
Gelhaus' lawyer, Terry Leoni, told the San Francisco Chronicle on Wednesday that her client "absolutely believed it was a real AK-47 and absolutely feared for his life."
The Press Democrat reported that Lopez was wearing a hooded sweatshirt, but the hood was down and Lopez was not wearing earphones when ordered to drop the gun.
Gelhaus is a 24-year veteran of the department. He previously served in Iraq in the Army and was a certified training officer with the department.
Henry said it appears Gelhaus and his partner encountered Lopez about 3 p.m. as he walked down a street. Gelhaus told investigators that he could not remember if he identified himself as a police officer before firing.
Gelhaus tried CPR and other life-saving measures after the shooting, the newspaper said.
"When he touched the weapon and briefly looked at it, felt that it wasn't the proper weight and looked different, that was when he first began to suspect it was a replica firearm," Henry told the paper.