Report details suicide note and burial map left by slain Michigan teacher's husband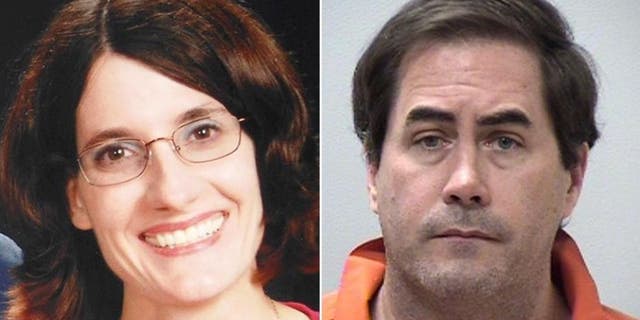 Newly released documents found after the apparent suicide of a Michigan man who was a person of interest in the disappearance of his wife, Theresa, showed him confessing to killing her and saying, "I am so sorry," Fox 17 reported.
The outlet, which obtained the documents from the Portage police, shared PDFs of the suicide note that authorities said was left by Christopher Lockhart on Oct. 24, along with a map he reportedly drew for police pointing them to the location of his wife's body. The department released 199 documents in total.
In the note, shared by Fox 17, Lockhart admitted to choking his wife "to death" on May 18 after an argument and said, "I am so sorry for this horrible act."
POLICE FIND HAND-DRAWN MAP LEADING THEM TO BODY OF MISSING MICHIGAN TEACHER
"I was drunk and we were arguing and I snapped," he wrote. "I live with it every moment of the day and I miss her so much. I didn't put her first, that was my biggest mistake."
In the letter, he went on to apologize to "those who believed in me" for what he called a "senseless act." He also reportedly admitted to killing the couple's cats, whom he said they were also arguing about.
The map, provided by Fox 17, included a note to "Detective Hess," along with a drawn illustration of the Allegan County area, marking Theresa's burial spot with an "X."
"I am so sorry for taking her away from everyone," Lockhart wrote. "Find her and put her to rest. I had no right to do what I did. I pray that God forgives me. I love her so much."
HUSBAND OF MICHIGAN TEACHER MISSING FOR MONTHS IS FOUND DEAD IN POSSIBLE SUICIDE
Using the map, police located the remains of the missing teacher on Oct. 24, the same day her husband reportedly committed suicide and more than five months after she was initially reported missing. She had not been seen since May 18.
Authorities found Lockhart's body during a search of his home after he did not appear for a meeting with investigators that morning. An electronic tether he was wearing had not indicated any movement for several hours.