Purple Heart medal found at Arizona pawnshop returned to family
A Purple Heart medal earned decades ago was reunited with family members of a World War I veteran on Wednesday after it was found at an Arizona pawnshop.
The Tucson Police Department said Officer Jim Caccavale spotted the medal belonging to Leon Elie Lyon a few months ago after reviewing reports from local pawnshops, and contacted the group Purple Hearts Reunited, which helps return lost or stolen medals to veterans and military families.
The person who sold the medal to the pawn shop claimed it came from Ohio about 20 years ago. Glen Lyon, the colonel's grandson, told Tucson News Now his family never thought they'd see the medal again.
"If somebody takes something from you, you never expect it to come back," he said. "The chances, I guess, are one in a million."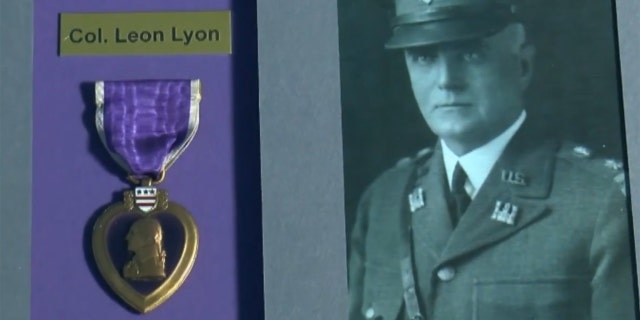 Purple Hearts Reunited said that Lyon served during World War 1 as an Army engineer officer, and was promoted to rank of lieutenant colonel before he was wounded. After being honorably discharged in October 1919, he came back into the service the follow year and remained in the service until the early 1940s.
PURPLE HEART RETURNED TO WORLD WAR II SOLDIER'S FAMILY IN TENNESSEE
He made rank of colonel in Feb. 1942 before he died the following year, and is buried at Arlington National Cemetery, according to the group.
"My grandfather, I never met, which is pretty sad," Lyon's grandson said Wednesday. "But I'm really very happy...that we got the Purple Heart back."
The officer who found the medal said it was sound for $20, and he's already found another Purple Heart with other medals that were reported stolen and sold for $120.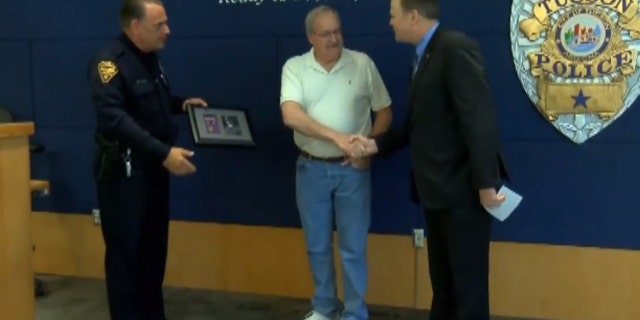 "I hope I don't find anymore. Because then that means, they will be with the families where they belong," Caccavale said.
Police told Tucson News Now that no charges were filed in either case, but anyone caught selling or pawning a service medal that doesn't belong to them could be held responsible.