Prosecutor says lawyer who killed his wife coveted her money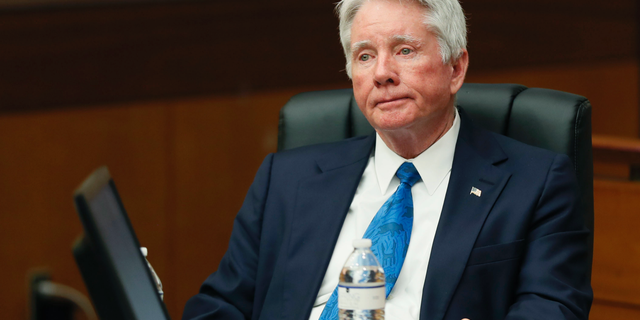 ATLANTA – An Atlanta attorney who fatally shot his wife coveted her money and killed her intentionally, a prosecutor argued Tuesday. A defense attorney rejected that, saying his client adored his wife and the case against him is an "accident in search of a motive."
Everyone agrees that Claud "Tex" McIver, 75, fatally shot Diane McIver in September 2016. But jurors, who heard from dozens of witnesses over roughly four weeks of testimony, must now decide whether he did it on purpose.
Prosecutor Clint Rucker said in his closing argument that there was clear, compelling and overwhelming evidence that McIver intentionally killed his wife. He did it because he was financially dependent on her and feared losing that support, Rucker said.
"When he killed Diane McIver, it was like hitting the lottery," Rucker said. "If she stopped supporting him in the manner to which he was accustomed, he had a problem."
But defense attorney Bruce Harvey called the prosecution's case a "tale of innuendos and undelivered promises." McIver depended on his wife's largesse and loved her dearly, defense attorneys said.
In the absence of a strong case, the prosecution did everything they could to vilify McIver and decided, "'We are going to make this jury not like him,'" defense attorney Don Samuel said, adding, "That's their mission."
The McIvers were wealthy and well-connected. He was a partner at a prominent labor and employment law firm and served on the state election board. She was president of U.S. Enterprises Inc., the parent company of Corey Airport Services, where she had worked for 43 years.
Dani Jo Carter, a close friend of Diane McIver, was driving the couple's Ford Expedition on the evening of Sept. 25, 2016, as the three returned from a weekend at the McIvers' horse farm in Putnam County, about 75 miles (120 kilometers) east of Atlanta. Diane McIver was in the front passenger seat and Tex McIver was in the back seat behind his wife.
With traffic heavy on the interstate, Carter exited in downtown Atlanta. Concerned about the area where they exited, Tex McIver asked his wife to hand him a gun that was in the car's console. Bill Crane, a family friend acting as a spokesman, told news outlets several days after the shooting that when the SUV was approached by people at an intersection, the McIvers were nervous about unrest surrounding Black Lives Matter protests and feared a carjacking.
A short while later, McIver fired the gun, hitting his wife in the back. Carter drove to Emory University Hospital, where Diane McIver died.
An attorney for McIver told news outlets a few days later there had been no concern about unrest or protesters, but rather about people who were in the street in an area frequented by homeless people. Prosecutors said McIver tried to pressure Crane to withdraw his statement and charged him with influencing a witness, but the judge dismissed the charge last week.
The McIvers' marriage was the second for both of them and they kept their finances separate.
Diane McIver was a shrewd businesswoman with a sharp tongue who often lent money to those close to her but kept detailed records on the status of the loans, Rucker said.
Tex McIver had lost his equity partnership in his law firm and his income had dramatically decreased, Rucker said. A $350,000 loan his wife had given him was secured by the horse farm. She had made it clear she wanted to leave the farm to their godson, something she could do if she foreclosed on the loan and took control of the farm, prosecutors said.
Diane McIver had taken steps to change her will to make it more favorable to their godson and other people, prosecutors said, though they never produced concrete evidence that a new will existed.
Defense attorney Don Samuel walked jurors through 16 reasons that he said they should have reasonable doubt in this case. The jurors don't have to agree with all of those reasons, he said, but he stressed that any reasonable doubt means they must acquit.
If the shooting was intentional, Samuel asked, why would McIver shoot his wife in an SUV with his wife's best friend just inches away? Why wouldn't he have a solid story cooked up rather than bumbling through different versions in the aftermath? Why would he shoot through a car seat and aim so low on her back? Why would Diane McIver have told a doctor it was an accident soon before she died? If McIver was so financially dependent on his wife, why would he kill her and cut off that source of money?
Prosecutors asked the jury to find McIver guilty of malice murder, meaning that he intentionally shot her "with malice aforethought." Defense attorneys told the jury that it was an accident and, therefore, they must acquit him.
Jurors can also consider the lesser charge of felony involuntary manslaughter, which would mean he didn't act intentionally but was acting recklessly when he shot her.
McIver still faces another charge of influencing witnesses stemming from an allegation that he told Carter to tell police she wasn't present when the shot was fired. But defense attorneys argue prosecutors would have had to show that McIver was trying to mislead Carter for him to be found guilty on that count.