Pregnant woman forced to deliver baby after being set on fire by boyfriend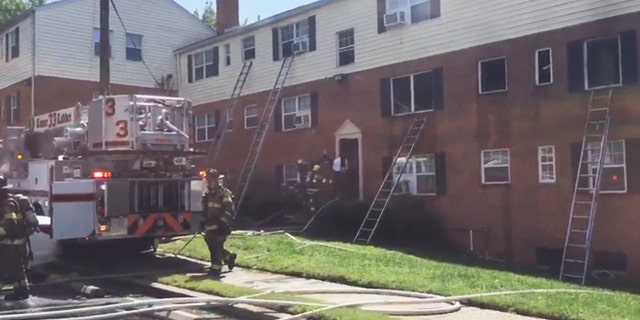 A Maryland woman who was seven months pregnant was forced to deliver her baby after she was set on fire by her boyfriend, according to reports.
Andrea Grinage, 31, was critically burned Friday when she was doused with gasoline on Friday in the bathtub of her apartment in Capitol Heights, outside Washington, Fox 5 DC reported. She was taken to the hospital where she delivered a baby girl. Both were in critical condition.
Despite suffering burns over a large part of her body, Grinage told police what happened and who was responsible. She also warned her mother that the boyfriend was on his way to her apartment to harm her, the station reported. He was arrested before he got there.
"She was very brave," Prince George's County police spokesperson Jennifer Donelan said, according to the station. "We want her family to know how brave she was, suffering as badly as she was, critically burned, worried about her unborn child, dealing with those injuries and was able to share that information with us so that we could get moving with our investigation and locate this person."
Police haven't identified the boyfriend.
Grinage was still on fire as she banged on neighbor's doors, according to the station.
Neighbors told WRC-TV they heard Grinage and her boyfriend arguing Thursday night.
Grinage's father told the station the baby was born seven weeks premature and was doing okay.
"She's hanging in there," Arthur Grinage said. "She's doing fine. She's beautiful."