Portland police union president says city 'a cesspool,' amid 'failed policies' on homelessness
The leader of Portland's police union has slammed the mayor for his response to the homelessness crisis, claiming Oregon's largest city has "become a cesspool".
Officer Daryl Turner, president of the Portland Police Association and a police officer for 27 years, posted a lengthy statement on Facebook on Monday, where he listed the various issues the city is facing, ranging from aggressive panhandlers and garbage-filled RV's to used needles and human feces blocking entrances to businesses.
"Our city has become a cesspool," he wrote on Facebook. "Livability that once made Portland a unique and vibrant city is now replaced with human feces in businesses doorways, in our parks, and on our streets.
"Aggressive panhandlers block the sidewalks, storefronts, and landmarks like Pioneer Square, discouraging people from enjoying our City. Garbage-filled RVs and vehicles are strewn throughout our neighborhoods. Used needles, drug paraphernalia, and trash are common sights lining the streets and sidewalks of the downtown core area, under our bridges, and freeway overpasses. That's not what our families, business owners, and tourists deserve."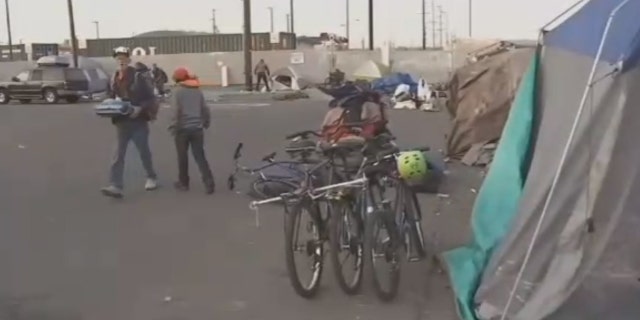 He added that Mayor Ted Wheeler's had implemented "failed policies" and that he had "thrown Portland Police Officers under the bus".
Turner's comments came after Wheeler said in an interview with The Oregonian that he wanted to review arrest data after an analysis by the newspaper found more than half of the arrests that police made in Portland last year were of homeless people.
The review by the paper found that 52 percent of arrests made by Portland Police involved a homeless individual, while homeless people only represent three percent of the city's total population.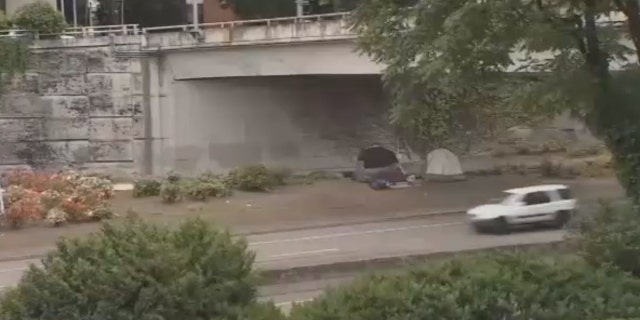 "The real question here is, 'Is there some sort of profiling or implicit bias?'" Wheeler told the editorial board upon learning of the statistics. "From my perspective, that's the crux of the situation. The police should be focused on policing criminal activity, and that's sort of the beginning, the middle and the end of it for me."
Portland Police Chief Danielle Outlaw later called for the Independent Police Review to launch an investigation to determine whether the homeless are being unfairly targeted.
"I requested IPR to review the data to assist me in determining if there were any PPB systems or policies that lead to unintended consequences or misalignment with the Bureau's mission, vision and values," Outlaw said in a statement to FOX12. "My officers do an amazing job with the tools they are given, and are often expected by some to solve societal problems outside of the scope of their duties and/or realm of influence."
HOMELESS PERSON IN PORTLAND READS MANIFESTO, SETS THEMSELVES ON FIRE
"I've been a police officer here for 27 years, I've seen it gone downhill. The city's become a cesspool."
But Turner said Monday any allegations of targeting the homeless population are baseless, and that officers are unable to spend the time needed to connect homeless individuals to necessary services.
"A lot of the victims of these crimes are homeless too, so if we're not investigating these crimes, if we're not responding to these crimes, then we're not responding to the needs of the homeless," he said. "So you're damned if you do and damned if you don't."
The homeless population in Portland has become a hot topic in the past year and has motivated some businesses to head out of town.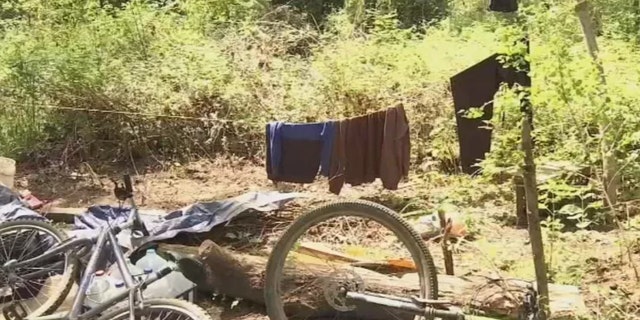 Last fall, Columbia Sportswear President and CEO Tim Boyle said he was concerned he made a mistake when he opened a headquarters for the company's Sorel footwear brand downtown after employees reported car break-ins, threats and human waste being dumped by the office's front door.
COLUMBIA SPORTSWEAR MAY CLOSE PORTLAND OFFICE OVER DEATH THREATS, PUBLIC DEFECATION BY HOMELESS PEOPLE
Other small business owners in the City of Roses said at the time the increasing homeless population already proved to be too much to handle.
Judith Arnell told FOX12 at the time the decision to close her business, Judith Arnell Jewelers, came from a mix of panhandling and concerns over the safety of her employees and clients.
"It's very difficult to do business here right now. Our customers are afraid to come in," she said.
A spokesperson for Wheeler said in a statement: "We are reviewing the message from PPA and will continue this conversation with Daryl Turner, and the many other groups and individuals who are rightly interested in these issues."
The police union head said Monday the mayor is sending mixed messages as to what officer should enforce, and the actions of law enforcement revolve around if people are breaking the law.
"The Mayor, he's in City Hall, he sits behind a desk. He's not out there with us every day. He's not working hard like we are every day on this issue," he said. "He's able to then stand there and make a judgment, is this implicit bias? Is this profiling? No it isn't. It's called law enforcement."