Police trying to determine why gunman opened fire downtown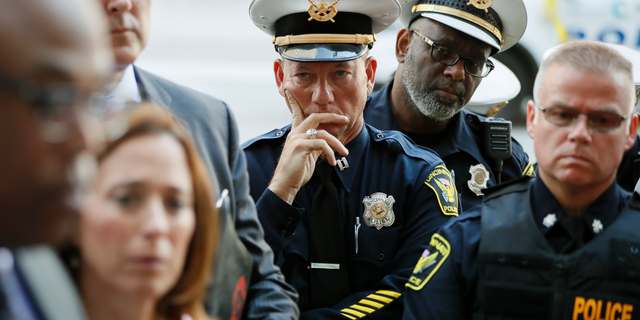 CINCINNATI – Police say they're trying to learn why a gunman carrying a large amount of ammunition began shooting in a downtown Cincinnati high-rise building, killing three people and wounding two others before four officers all opened fire on him.
Police Chief Eliot Isaac says they will study footage from the officers' body cameras and security from the 30-story building that headquarters Fifth Third Bancorp. Police say the suspect had never worked at Fifth Third and don't have any information linking him to other businesses in the building.
Authorities believe that 29-year-old Omar Enrique Santa Perez has lived in the Cincinnati area since 2015. Police swarmed his apartment in North Bend, Ohio, about 15 miles (24 kilometers) away.
Isaac says the shooter used a 9 mm handgun with some 200 rounds of ammunition. Officers arrived in seconds to drop him in a hail of gunfire.
Authorities hope to have more information to release Friday.
Records show the shooter formerly lived in South Florida and had been charged with some non-violent crimes years ago.
Police said he went into a sandwich shop and possibly other businesses before entering the lobby and opening fire around 9:10 a.m.
Hamilton County Prosecutor Joe Deters said the rapid police response probably prevented many more casualties. He said one investigator said it could have been "a bloodbath beyond imagination."
Leonard Cain told The Enquirer he was going into the bank when someone alerted him about the shooting. He said a woman wearing headphones didn't hear the warnings and walked into the bank and got shot.
The Hamilton County Coroner's office identified the victims as Pruthvi Kandepi, 25; Luis Calderon, 48; and Richard Newcomer, 64.
One of the victims died at the scene. Two more died at University of Cincinnati Medical Center. The wounded were listed there in critical condition and fair condition.
Fountain Square is often the site of concerts, dancing, food trucks and other events around lunchtime or in the evenings.
"It could have been any one of us," Mayor John Cranley said. He praised police and other emergency personnel, saying, "It could have been much, much worse."
___
Associated Press writers John Seewer in Toledo, Alexandra Villarreal in New York and AP Photographer John Minchillo in Cincinnati contributed.
__
Follow Dan Sewell at http://www.twitter.com/dansewell