Police search for missing college student in Wisconsin River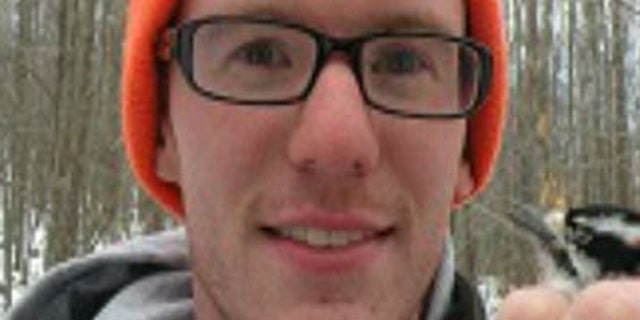 STEVENS POINT, Wis. – Emergency personnel took to boats Monday in the search for a missing college student who they believe may have ended up in a river in central Wisconsin after a night out celebrating his 21st birthday.
Stevens Point assistant police chief Brian Kudronowicz said firefighters are hunting for any sign of 21-year-old Eric Duffey in the Wisconsin River, which goes through the city about 110 miles north of Madison. The University of Wisconsin-Stevens Point student disappeared after he left a downtown bar early Saturday morning.
Kudronowicz said emergency personnel including Civil Air Patrol were scouring a part of the river where ice becomes open water. He said it's not far from where Duffey was last seen.
"We had some late information that's kind of adding up to him walking into the Wisconsin River," he said. "I think alcohol had something to do with his actions."
Duffey, who's originally from Fitchburg, was last seen about 1:15 a.m. Saturday leaving Joe's Bar. Kudronowicz said he may have been heading back to his residence or the residence of his girlfriend. Police do not suspect foul play.
Kudronowicz said police have temporarily stopped an exhaustive neighborhood search for Duffey that included the use of tracking dogs and about 150 volunteers knocking on doors, checking backyards and passing out fliers with Duffey's photo. Police also sent a Code Red Alert out Saturday evening and again on Sunday morning. With the alert, police asked residents between downtown Stevens Point and Duffey's residence to check their property for signs of him.
"We've exhausted a lot of where he could be at," he said. "I think we did a very thorough search."
Kudronowicz said the weather could be a negative factor in their search efforts.
"We're looking at three cold nights," he said. "The longer he's missing, the less likely that we're going to have a good outcome."
Numerous college-age men around Wisconsin have disappeared after drinking heavily at taverns only to turn up dead in local rivers over the last decade. Former Green Bay Packers offensive coordinator Joe Philbin's 21-year-old son, Michael, was found dead in the frigid Fox River in Oshkosh after a night out with friends in January.