Police pin hopes for break in 34-year-old murder to cable receipt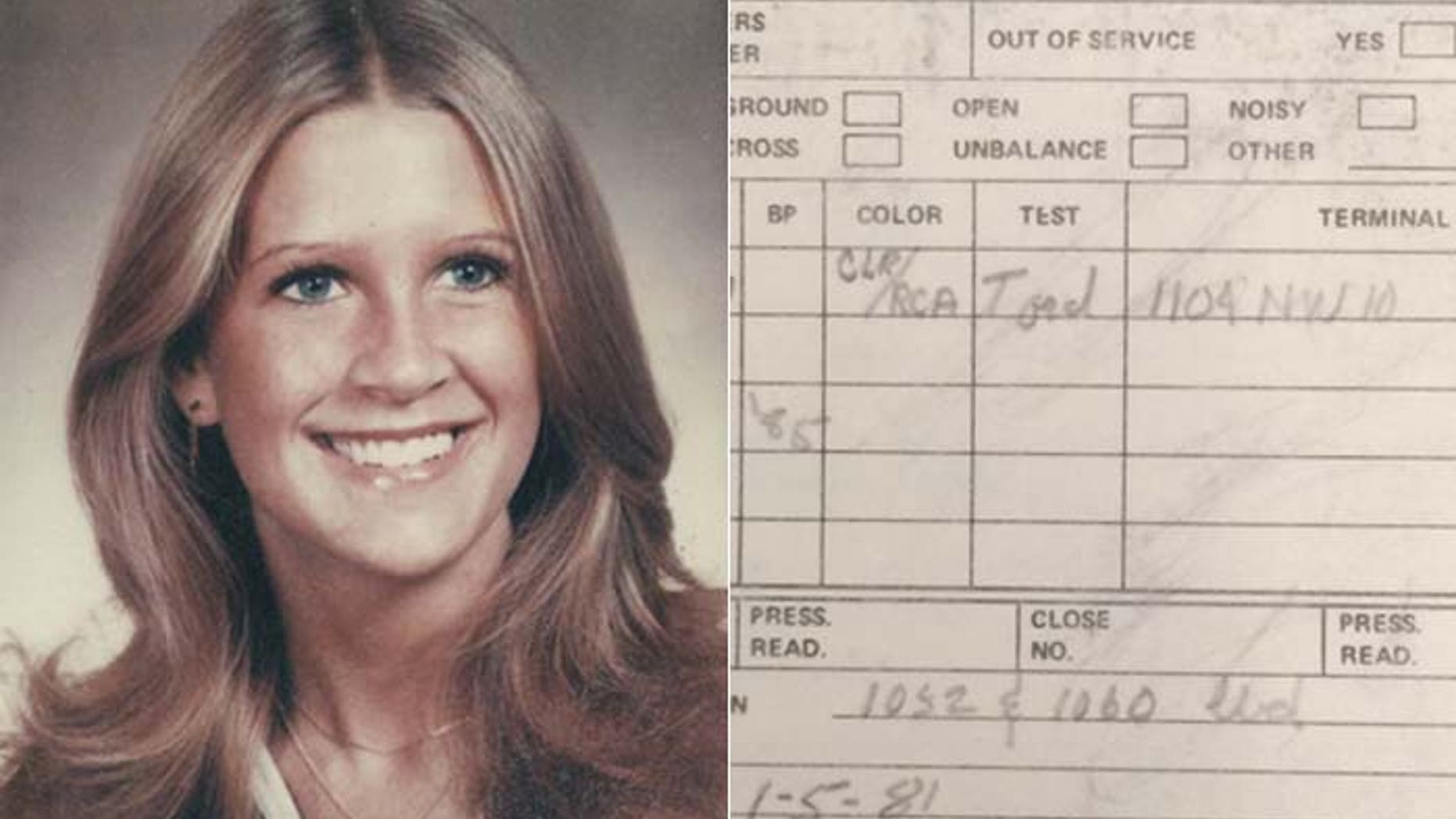 It was a January afternoon and Tracey Neilson's 21st birthday when she was stabbed to death inside her Oklahoma apartment more than three decades ago in an unsolved case that has stumped police and haunted area residents
Now, 34 years after the crime, investigators released a critical piece of evidence in the hopes it will lead to her killer: three letters scribbled on a work order ticket to repair cable inside the young woman's apartment on the day she was murdered.
Neilson, a junior at Oklahoma University in Norman, was found dead Jan. 5, 1981, when her husband of five months – then a medical student at the university – returned home to the couple's apartment in the neighboring town of Moore.
Authorities believe the murder occurred around noon, after Neilson was seen running errands at a local grocery store, according to Oklahoma State Bureau of Investigation spokeswoman Jessica Brown.
Neilson's husband, Jeff, found her stabbed multiple times in the chest and neck inside the couple's bedroom shortly before 5 p.m. at the Jamestown Square Apartments – following several unanswered phone calls from friends and family on the young woman's birthday.
"She was beautiful inside and out...She had so much life left to live."
Jeffrey Neilson, who had attended day-long classes, was ruled out as a suspect and no motive was ever established, Brown told FoxNews.com. Eye witnesses reported seeing an unknown white male near Neilson's front door around the suspected time of the attack, Brown said. Police detected a single finger print and other forensic evidence at the scene but a positive match has never been made.
[pullquote]
On Monday, the 34th anniversary of Neilson's death, authorities announced they are working to identify the owner of a cable trouble assignment ticket book. The last ticket in the book is for work done at the Neilson home at 11:51 a.m. the day Tracey was killed, according to investigators. On the bottom left corner of the book is a box for the employee name with three letters scribbled inside. A box was checked indicating the job had been completed.
"We want to identify the three letters written in that box," the Oklahoma State Bureau of Investigation said at a press conference Monday on what would have been Neilson's 55th birthday.
"We believe someone came to her door," Brown told FoxNews.com. "She [Neilson] let them in and that's when the homicide occurred."
"She was about as low risk a victim you can fathom," Brown said of Neilson, who was originally from Canadian, Texas, and salutatorian of her high school class.
With the passage of time, Brown said detectives are hopeful the case will be solved.
"People's relationships change over time," Brown said, "It's not uncommon for an ex-husband or ex-wife to come forward all these years later and tell what they know."
"We are doing everything we possibly can do to get it solved," she said. "We've done a ton of work on this case."
In 1994, Jeff Neilson's family helped pass a state law to fund Oklahoma's first automated fingerprint identification system, enabling authorities to scan a database full of latent prints searching for matching characteristics. While authorities could not identify the finger print in the Neilson case, the system helped solve hundreds of violent crimes in Oklahoma.
"Everybody loved Tracey," the victim's sister, Cindy Young, told FoxNews.com Monday.
"She was beautiful inside and out," said Young, who had attended the press conference along with other family members. "Jeff was the love of her life. She was so happy. She had so much life left to live."
A reward of up to $11,000 is being offered for information leading to the arrest and conviction of Neilson's killer.
Anyone with information on the murder of Tracey Neilson is urged to call the Oklahoma Bureau of Investigation at 1-800-522-8017.