Police, parents react to Florida school shooting 911 tapes: 'We failed in many ways'
Senior law enforcement sources and parents of students at Stoneman Douglas High School are reacting with outrage after listening to freshly released portions of the Broward County Sheriff's dispatch recordings from the Valentine's Day shooting in Parkland, Fla. that left 17 dead and 16 others injured.
"Wow I just listened to the first 10 minutes of the dispatch tapes. It was very difficult to listen to. We failed in many ways. Don't know if I'll be able to sleep tonight…" a senior law enforcement source said in a message to Fox News. "The first thing is respond to the threat. We were talking about blocking traffic, perimeter…all of that is secondary, third or fourth."
Andy Klein, a parent of a junior at Stoneman Douglas, told Fox News he was stunned by how law enforcement officials responded immediately after the shooting.
"While kids are getting shot, these guys were running around blocking roads," Klein said. "I'm so angry it's beyond words."
The recordings appear to align with what Fox News first reported about multiple high-ranking law enforcement and official sources alleging that first responders to the Feb. 14 massacre, including scene commander Captain Jan Jordan, broke away from BSO's active shooter training by focusing on setting up a perimeter and staging vs. neutralizing the shooter.
BSO's has defended its actions, explaining that the alleged bad commands focusing on a perimeter and blocking traffic came after the shooting stopped and after Cruz had fled the scene.
"The right response would have been: 'You go on the first floor, I'll go on the 2nd floor, you go on the third floor'" one senior law enforcement source told Fox News. "You don't even discuss that crap until the shooter is dead."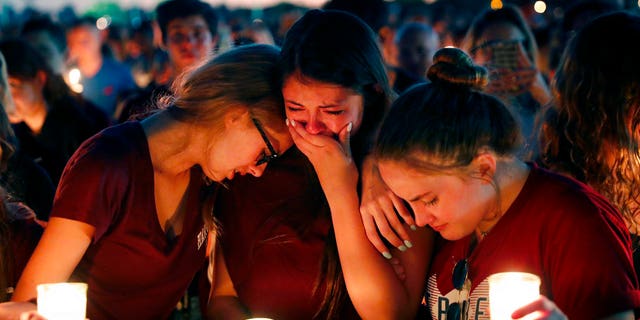 The Broward County Sheriff's Office has been under fire and is battling mounting allegations that its response to the shooting—the deadliest shooting at a high school in U.S. history—went against active shooter training and could have cost lives.
"Your priority is blocking traffic? Maybe they have a reasonable explanation for why," one law enforcement source said. "That's going to have to come out in the investigation. Maybe it was three kids coming out to my car and they're badly wounded or you've got a line of elementary school students walking to the school for a tour…but if your main priority is blocking traffic, my God."
There have been heavy demands and public outcry that BSO release more audio recordings and records from the shooting. Fox News and other outlets have submitted multiple requests for more information.
FULL COVERAGE OF FLORIDA SCHOOL SHOOTING 
Under mounting pressure, on Thursday BSO published files on its website including a portion of the dispatch recordings from the day of the shooting and also its version of the timeline of the shooting and law enforcement response.
While BSO says Jordan's commands and focus on perimeter were valid because they came after Nikolas Cruz apparently stopped shooting, multiple sources say evidence suggests that Jordan and other officers did not know where the shooter was when they were focused on roadblocks and perimeter.
The tapes released by BSO even appear to indicate that for quite some time after prioritizing perimeter and road blocks, responding officers did not know where the shooter was. Here is a portion of the recording released by BSO:
10 seconds into BSO recording "Possible shots fired, 1200 building"
3:30 after the first "shots fired" calls: "We definitely have shots being fired
4:19 "Do not approach the 12 or 1300 Building. Stay 500 feet away at this point."
7:38 after the first shots fired calls: "17 sierra one (Capt. Jan Jordan) "I know there is a lot going on. Do we have a perimeter set up right now and everybody cleared out of the school?
9:00 (Capt. Jan Jordan) "I want to make sure that we have a perimeter set up and the school's cleared and all the kids are getting out but we need to shut down around this school"
12:59 "Is he still shooting?..."54."
14:27 "...We're trying to locate him…we don't know where he's at."
16:32 "…We've got gunshots either coming into our out of that building on the west side, third floor."
The newly released audio tapes also raise more questions about the school resource officer, Deputy Scot Peterson, who did not enter the school to protect students and staff and was subsequently removed from his command.  The dispatch recordings appear to indicate Peterson quickly identified the shots were coming from Building 1200 and he again went against policy by instructing responding officers to stay away from the school instead of entering to neutralize the shooter.
This new information from the audio recording appears to contradict a statement Peterson released through his attorney saying, in part, that he's not a coward because he did not know where the shots were coming from in the initial moments.
"It sounds like Peterson is lying. He knew where the shots were coming from, he said the 1200 building…even nine minutes after—they went in the wrong building," a senior law enforcement source told Fox News.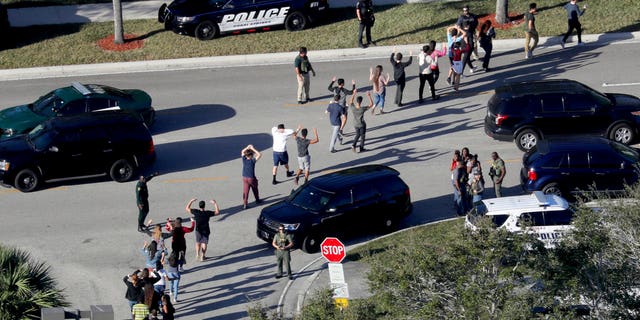 Peterson released a statement through his attorney Joseph DiRuzzo III, in which he says his actions will be justified and he will be exonerated of any wrong doing. A portion of his statement reads: "Let there be no mistake, Mr. Peterson wishes that he could have prevented the untimely passing of the 17 victims on that day, and his heart goes out to the families of the victims in their time of need."
One law enforcement source says it is possible Peterson was so distraught he does not accurately remember the timeline and details of the shooting.
The Broward County Sheriff's Office is performing its own internal investigation into the shooting. The Florida Department of Law Enforcement is investigating it as well. And, the Florida Senate has subpoenaed information and records from the Broward Public Schools and responding law enforcement agencies.
Nikolas Cruz has been formally charged with 17 counts of pre-meditated homicide.