Police may have video of killers of Illinois cop
NEWYou can now listen to Fox News articles!
Police hunting the killers of an Illinois cop may have caught a break when a resident in the area of the murder turned over security footage that could have captured the individuals responsible.
George Filenko, commander of the Lake County Major Task Force, said during a Thursday afternoon press conference that a "private resident" turned over "home video security footage" Wednesday night that allegedly showed "individuals" in the area where Lt. Charles Joseph Gliniewicz was shot and killed Tuesday morning.
The suspects have been described only in vague terms so far as a black male and two white males. That description is based on what Gliniewicz radioed to his dispatcher before he was killed.
Filenko twice described the development as "significant," and said the footage had been turned over to the Department of Homeland Security.
"Homeland Security has got advanced equipment," Filenko said. "This video in particular is on a particular type of hard drive that they have the technology to retrieve it off of."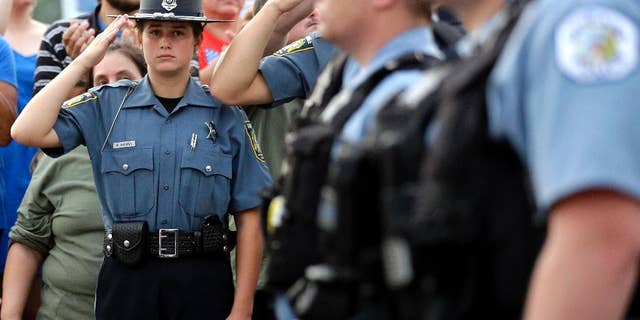 Filenko said, in his experience, some home security systems are more advanced than those employed by businesses.
"Some of those are very sophisticated, they're high-definition security systems," he said.
While it was initially reported that Gliniewicz was found stripped of his gun, and possibly his pepper spray and police radio, Filenko said Gliniewicz's gun had been "recovered" and didn't believe there was now any equipment missing from the scene. While he wouldn't describe the suspects as "armed," he still cautioned the public to be wary if they believe they've spotted any of them.
"I would consider anybody who murdered a police officer as being extremely dangerous," said Filenko, who added that there's a "good probability" the suspects are "still somewhere in the area."
Filenko told CNN on Wednesday night that authorities believed the suspects may have been familiar with the area where they encountered and ultimately murdered Gliniewicz.
Thursday's press conference was the first public signal that the investigation was progressing from the initial information offered up Tuesday morning. But the potentially "significant" break investigators may have caught Wednesday night also coincided with a costly setback.
Bail has been set at $100,000 for the woman whose intentionally false tip led authorities to divert resources from the manhunt for nearly five hours Wednesday night. Kristin Kiefer, 30, was charged with filing a fake police report, a felony, when she claimed to have spotted two of the suspects. Kiefer told cops the men tried to enter her car when she pulled over to the side of the road with car trouble, but fled into a cornfield when she dialed authorities.
Nearly 150 police officers, 11 K-9 units and three aircrafts descended on the area, beginning a systematic search. But as investigators continued questioning Kiefer, her story fell apart and she later admitted to making the encounter up.
"She said she was doing this for attention," said Det. Christopher Covelli, of the Lake County Sheriff's Office.
Kiefer's case highlights the pitfalls police can encounter when sifting through a multitude of tips. Aside from the primary detective assigned to the case, a second detective has been set to work just filtering through the plethora of emails from tipsters around the area reporting suspicious people and activity. Meanwhile, detectives in the field have canvassed houses and businesses in the area numerous times, hoping to stumble on a resident they may have missed or a memory that's suddenly been triggered.
"I think the most difficulty I've had with them is telling them to go home," Filenko said.
Det. Kenneth Mains, the president and founder of the American Investigative Society of Cold Cases, provided FoxNews.com a roadmap for navigating an investigation that begins without much direction.
"Not only are the investigators gonna need a lot of patience, they're gonna need dedication and determination, which I know they have," Mains said. "Cops are not gonna stop doing their job. They're not gonna stop 'till they find these people."
Mains recalled a homicide that occurred in 1992. When he got the case nearly two decades later, all he had to go on was a two-page missing persons report. So he set to work, interviewing and reinterviewing witnesses. Finally, he noticed a detail that wasn't followed up during the initial investigation.
"It's always good to have more than one person doing an investigation -- that's why a lot of cases go cold," he said. "A new, fresh set of eyes sees something someone else might have missed."
To bust a counterfeit currency ring, all Mains had was a video of a bill being passed. Eventually, interviews led to a second video that showed a car driven by the suspect. Eight months of tracking that lead ultimately lead to the perpetrator.
"It's gonna be time consuming, but if you match up one video to the next, that's a lead," Mains said. "And, as a detective, all you can hope for is to have another lead."