Police investigate satanic signs on Kentucky church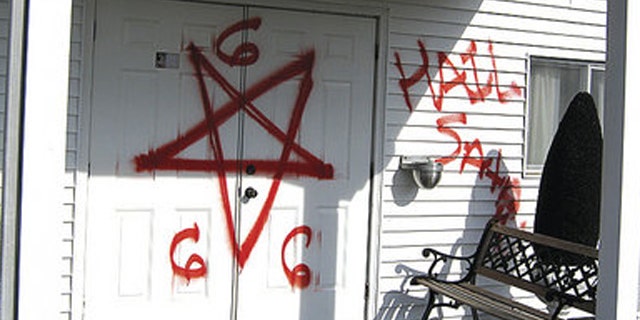 MELBER, Ky. – Police in western Kentucky are investigating after satanic signs were scrawled on a church in western Kentucky.
Kentucky State Trooper Michael Robichaud told The Paducah Sun that bright red spray-paint was used to write "Hail Satan," "666," and draw a star on the outside walls of Gospel Light Missionary Baptist Church in Graves County. He called the actions "very disturbing."
A neighbor reported seeing the images Saturday afternoon at the church on Kentucky 945, just south of Melber.
Pastor Jackie E. Thomas said he hopes publicity about the incident will help people realize how important their Christian faith is and bring them back to God.
Anyone with information about the vandalism is asked to call Kentucky State Police at 270-856-3721 or 800-222-5555.