Police dog left in hot car during training exercise dies
BELLEFONTE, Pa. – Pennsylvania prison officials are investigating the death of a drug-detecting police dog left in a hot vehicle for 2½ hours during a training exercise.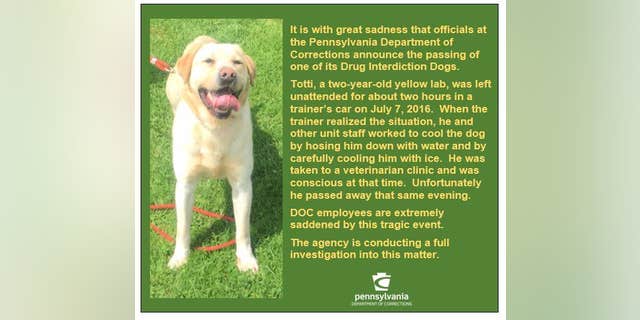 NEWYou can now listen to Fox News articles!
The state Department of Corrections said the 2-year-old yellow Labrador named Totti was left in the vehicle July 7 at the state prison at Rockview near Bellefonte in Centre County.
Corrections spokeswoman Amy Worden said the dog's handler had stored training items in a vehicle at the end of the exercise and didn't realize the dog was locked in the car. Dog handlers and other staff tried to cool Totti with a water hose and ice and took him to a nearby veterinary clinic, but he died that night.
The department said Totti's death "has been very devastating for everyone involved."