Plane 'Cut in Two' in Deadly Mid-Air Collision Over Oregon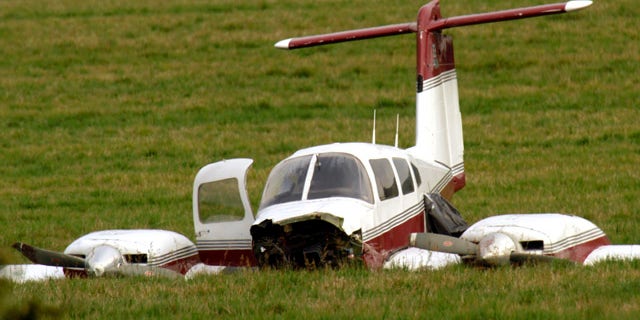 ST. PAUL, Ore. – Investigators looking into a collision over an Oregon state park that killed a former state trooper said Wednesday one of the two planes was flown by a flight instructor and student.
Authorities said they aren't sure whether the teacher or the pupil was controlling the aircraft when it collided Tuesday afternoon with a plane flown by 58-year-old Stephen Watson, a retired state trooper.
Watson was killed when his single-engine plane broke apart and slammed into the ground near Wilsonville. Investigators believe Watson was alone in the plane.
Instructor Travis Thompson, 31, of Beaverton and 23-year-old student Henrik Murer Kalberg landed in a field and walked away from the aircraft without injuries. Authorities said Kalberg lives in Hillsboro; his Federal Aviation Administration pilot license lists an address in Norway. Neither Thompson nor Kalberg could immediately be reached for comment.
Their twin-engine, 1978 Piper PA-44-180 was registered to Hillsboro Aviation outside Portland. Executives didn't respond to requests for comment.
"We're dealing with a tragic situation at this point and we're thankful no one on the ground was injured," National Transportation Safety Board lead investigator Josh Cawthra.
Watson's aircraft, a single-engine 1966 Beech Bonanza V35, broke apart after the collision, strewing debris over a 1 1/2-square-mile area in and around Champoeg State Park, about 25 miles south of Portland, Cawthra said.
Investigators aren't sure whether the pilots were in communication with each other or with air traffic controllers when the planes collided. The weather was clear and sunny.
Investigators said the tail of Watson's aircraft was found about a mile from the rest of the plane. The nose of the training aircraft was sheared off.
Witnesses told investigators both planes were flying level at the time of the impact, but authorities haven't verified that information, Cawthra said.
Watson retired from the Oregon State Police in 2002 after a 26-year-career in the Astoria and Tillamook offices. He was working as the assistant director of public safety at the University of Portland.
Watson was a "very quiet, calm, competent leader," said state police Lt. Gregg Hastings, who has known Watson since both started their careers in Astoria in the 1970s.
"He was always a top notch Oregon state trooper and sergeant," Hastings said.
At the University of Portland, Watson wasn't just an enforcer but a teacher, said his boss, Harold Burke-Sivers. He wanted misbehaving students to take responsibility for their actions and learn from them.
"He saw us as being teachers in the classroom of real life," Burke-Sivers said.
Watson is survived by his wife and two daughters.