Pit bull mauls Texas boy, attack caught on video
A young boy was chased and mauled by a dog in Texas on Monday and surveillance video captured the attack.
The Manor Police Department were called to the scene after a 7-year-old boy was attacked by a pit bull mix, according to Fox 7.
AMBUSHED: DALLAS POLICE MASSACRE, ONE YEAR LATER
Surveillance video from the pet owner showed the child, in a green shirt, falling after running away from a dog. The canine latched on top of him. The boy attempted to get away from but he and the animal end up near the middle of the street.
Moments later a few bystanders ran to the scene and attempted to divert the canine's attention from the boy. The dog seemed to calm down before again rushing towards the injured child while the group blocked the dog's path.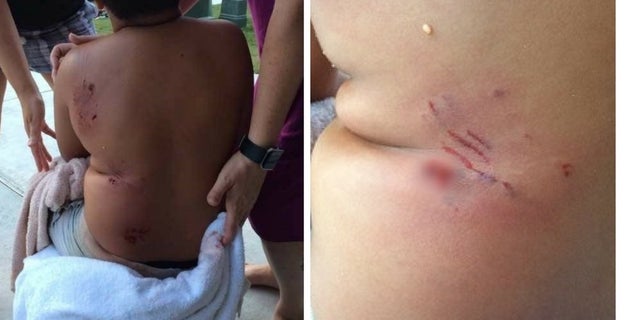 NEWYou can now listen to Fox News articles!
The young boy was bitten on his left and right upper thigh and on the left side of his back. He was hospitalized but has been released.
GEORGE W. BUSH TURNS 71: FUN FACTS ABOUT THE 43RD PRESIDENT
The canine was transported to Austin Animal Center and is being watched for 10 days for rabies.
The dog's owner will face charges including an unprovoked attack, no proof of rabies vaccination, failing to register the dog and animal at large. He has given up control of the dog.