'Pineapple Express' storm brings record rainfall, flood concerns, flight delays to Northern California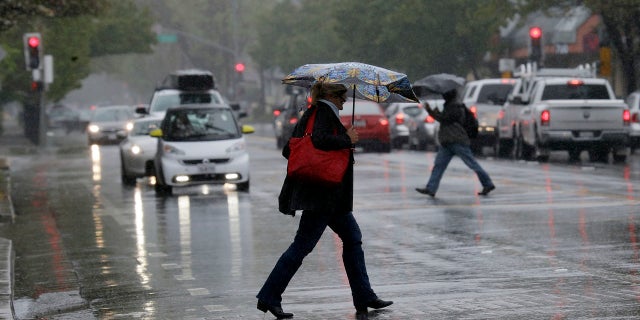 NEWYou can now listen to Fox News articles!
An "atmospheric river" of subtropical streaming from Hawaii pounded Northern California with record rainfall Friday, and flood warnings remained in effect Saturday.
The storm, dubbed "Pineapple Express" because of its Hawaii origins, has drenched San Francisco and other parts of the region since Thursday.
Downtown San Francisco saw nearly 2 inches of rain Friday, making it the fourth-wettest April day since records began.
Sacramento broke its record for the day with well over an inch of rain.
Authorities warned that flash floods, mudflows and rockslides were possible in heavy rain, especially in the wine country north of the San Francisco Bay Area.
Additionally, runoff from melting snow could add to the chance of rapidly rising mountain streams and rivers in the Sierra, the National Weather Service said.
The big concern wasn't the amount of rain but how fast it might fall, which could threaten mudslides in the wildfire-ravaged wine country, according to fire officials.
"When we start talking about half an inch of rain or more an hour, that's where we're more susceptible to mudslides and debris flow in and around our burn zones," Paul Lowenthal of the Santa Rosa Fire Department said.
In Sonoma County on Friday, rescuers pulled two people and two dogs from a car that became swamped to the door handles on a flooded road.
Flight cancellations at San Francisco International Airport total 147, about 10 percent of the airport's total flight schedule, a spokesman for the airport told Fox 2 KTVU.
California officials warned this week that they may have to use the partially rebuilt spillway at Oroville Dam, the nation's tallest dam, for the first time since repairs began on the badly damaged structure that nearly collapsed last summer.
Behind the dam, Lake Oroville, California's second-largest reservoir, has been filling up all winter, as more water was coming in than flowing out Friday.
California officials said they hope to avoid using the main spillway but are confident it can safely function.
The heavy rain has also affected entertainment in the outdoors and sports.
Yosemite National Park closed campgrounds and lodging because of flooding concerns, with the Merced River nearby expecting to peak 5 feet above flood stage Saturday.
The opener of the San Francisco Giants vs. Los Angeles Dodgers weekend series was rained out, marking the first time in 12 years that a Giants home game has been postponed by rain.
Saturday's start time was also pushed to 3:05 p.m. local time because of the rain forecast.
The Associated Press contributed to this report.