Pickup crushes car in Florida road rage case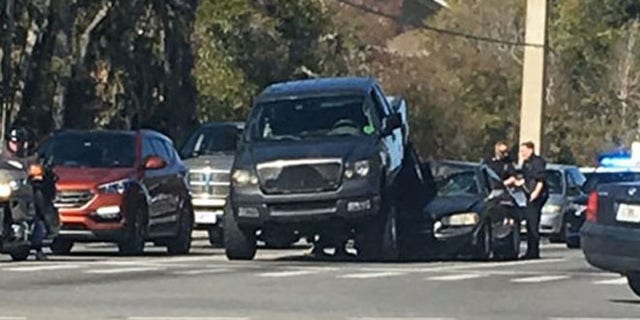 A road rage incident ended up with one vehicle crushing another on a Florida road.
VIDEO: THIEF STEALS CAR WITH BABY STRAPPED IN BACK SEAT
Ocala police responded to the scene Wednesday and found a Toyota Camry underneath a Ford F-150, according to reports.
Pickup driver Zach Waring, 18, told cops said the incident began when he accused the Toyota driver, Adalberto Aponte, of driving recklessly and nearly causing accidents. As he sat in his pickup at a stoplight, Aponte got out of his car, walked up to him and started pummeling him through the window.
TEXAS POLICE OFFICER UNDER FIRE AFTER MESSAGE TO ILLEGAL IMMIGRANTS GOES VIRAL
Waring said he then backed up his vehicle when Aponte ran back to the Toyota, saying that he was getting a gun.
He told officers he was afraid Aponte was going to kill him, his girlfriend and their infant child, WTSP-TV in St. Petersburg reported Thursday.
Police charged Aponte with burglary, battery, driving with a suspended license and criminal mischief.
Waring was not charged.

WTSP reports that Aponte's driver's license was suspended in August for failure to pay child support.