Phoenix police brave bullets, flames as shooting kills 5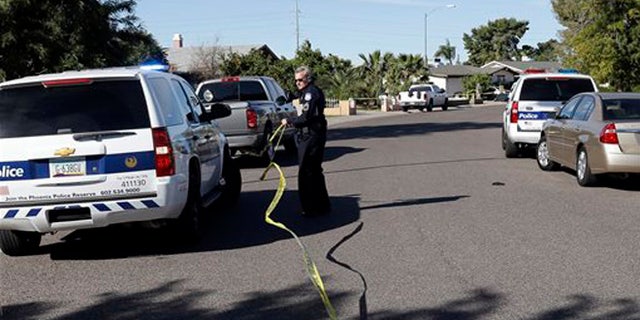 NEWYou can now listen to Fox News articles!
PHOENIX – Phoenix police and firefighters braved bullets and flames as they responded to a shooting and house fire that left five family members dead Tuesday, including the gunman, authorities said.
The shooter fired at officers who donned breathing gear to go into the burning home to help the victims, and some firefighters battling the blaze stood on the roof as flames gushed out, venting the home to reduce heat and improve visibility inside. Three officers were treated for smoke inhalation.
Four people killed in the morning violence were adults, and a girl, whose age was not known, later died at a hospital, police Sgt. Trent Crump said. He said police shot the gunman.
Crump declined to release names or specify the relationships of the people involved, but he said they were a family of five and that the shooter was the brother or son of the victims.
A 911 caller in the home begged for help, describing the shooting as a domestic situation. The first officers on scene went into the house because they felt they had to act quickly, Crump said.
"You have people that need you to come and rescue them and you now have not only a fire, but somebody who's also firing a gun in there," the sergeant said.
Authorities pulled two victims from the home in a cul-de-sac, then a tactical team stormed in 45 minutes later when the gunfire stopped and shot the gunman, he said.
The shooter had set the house on fire, which crews extinguished after it flared up for a second time, fire Capt. Reda Riddle-Bigler said. Officials found the other victims when the flames were out.
Investigators would now "begin the painstaking process inside that home" to determine exactly what happened, Crump said.
Tiffany Taylor, who lives down the block, said emergency lights and sirens woke her up at 4:30 a.m.
She went outside, heard two popping noises, saw 15 police vehicles speed toward the house, heard more popping and smelled smoke, she said. An officer told her to go back inside.
Taylor said a woman who lived in the home was friendly and they chatted when they ran into each other.
"Every single time we walked by, she spoke to us," said Taylor, who didn't recall the woman's name.
Taylor said the woman had a daughter who dressed as an angel last Halloween.
"She was wearing all white. I told her how beautiful she was," she said.
Phoenix Mayor Greg Stanton was at the scene after crews tamped down the fire.
"This is what heroes look like," he said of police and firefighters. "Their professionalism and their heroism under the worst possible conditions has truly blown me away."