Philadelphia museum brings American Revolution to life
PHILADELPHIA – When our forefathers signed the Declaration of Independence on July 4th, 1776, the fight for freedom was far from over.
The American colonies were still under British rule, and a decade of resistance turned to violent confrontations.
Nearly a year before the declaration was signed, "the shot heard round the world" was fired in Lexington and Concord, Massachusetts, and nearly eight years of bloody battles followed, pitting neighbor against neighbor, patriots against loyalists, militia men against the King's army and privateer sailors and a makeshift naval fleet against British war ships.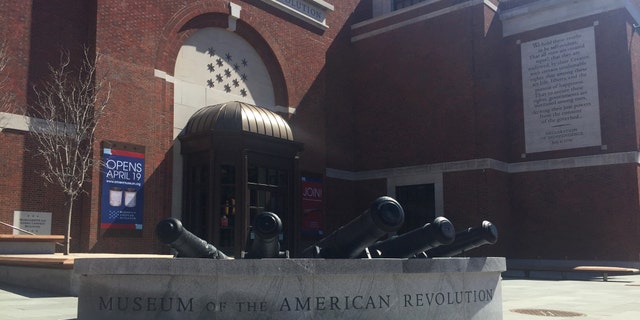 Historians call the battle for independence the most important event in our nation's history. Now, for the first time, a museum has been built solely for the purpose of bringing the Revolution to life.
The Museum of the American Revolution is nearing completion in Center City, Philadelphia, a classically styled, three-story brick structure with more than 30,000-square feet of exhibits and theaters, a welcoming rotunda, terrazzo floors, a sweeping circular staircase and vaulted ceilings.
Built at a cost of more than $120 million, the museum officially opens its doors on April 19th, 242 years since the shot heard round the world launched a new era of freedom and democracy.
Dr. R. Scott Stephenson, the vice president of collections, exhibitions and programming for the museum, has extensive experience developing exhibits and educational programs for numerous historical sites and organizations including Colonial Williamsburg and the Smithsonian. He spent most of the past 10 years collecting and archiving thousands of incredibly rare and historic artifacts that will now fill the museum's display cases.
"I can't believe it," Stephenson told Fox News during an exclusive tour of the nearly finished space. "I have to pinch myself in the morning sometimes as I walk through. But yeah, it's on!"
The vast collection includes muskets and cannons fired in conflict, uniforms the men wore and the daggers they carried.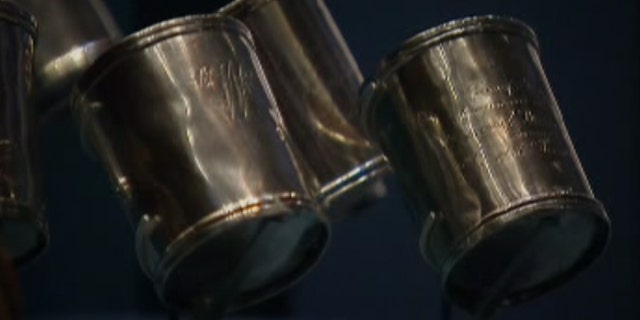 There is one of only two known copies of the Declaration of Independence printed in Philadelphia in German in July of 1776, and pieces of the statue of King George the third that were torn down in Lower Manhattan by colonists celebrating the uprising. Most of the statue was melted down into musket balls to use against the British, and the chunks on display here are among just a handful of pieces that survived.
There are many relics belonging to Gen. George Washington, including his silver cups and camping equipment, but the museum's crown jewel might be Washington's war tent, that he lived in on the battlefield for most of seven years. It is revealed in dramatic fashion in a 100-seat theater dedicated solely to this vital artifact.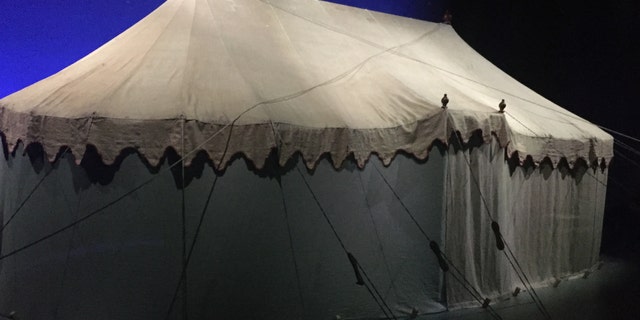 "It should not be here today" Stephenson told Fox News. "For this tent to have survived not just the revolutionary war but it was used in the 19th century, it was regularly set up and played a role in unifying Americans and the definition of what the new republic would be like. It was nearly destroyed during the Civil war, sold in the early 20th century by the descendants of Martha Washington...at any point along that journey this very fragile fabric could've just disappeared and it's still here, bearing witness."
Because the Revolutionary War was fought before cameras were invented, curators turned to modern technology to bring history to life. Eighteen theaters or interactive video exhibits greet visitors, with live action recreations, smoke and light effects and touch screens that allow people to get close and personal with some of the more compelling items on display.
"You enter the museum as a subject and leave as a citizen," Stephenson said.
Museum President Michael Quinn is equally excited to bring this vibrant and layered experience to the masses.
"We're on Cloud Nine. This is absolute euphoria, to see this dream finally take place" Quinn told Fox News.
There are many places that preserve a portion of the Revolution, Quinn said, a battlefield, a tavern, a home. A museum devoted to the Revolutionary War recently opened in Yorktown, Va., as well. But the Philadelphia facility gives the whole story in the city that was at the center of the battle for independence, he said.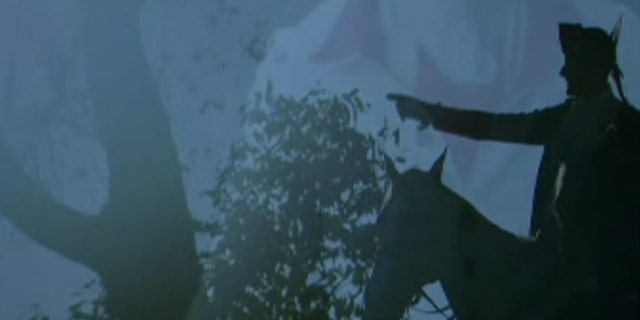 "We want them to appreciate the incredible significance of the ideals of the revolution," Quinn said. "This concept of equality, of self-governance, of liberty that has come to define us as an American people, it is the only thing that binds us together as a single people, citizens of the same nation, and we have to teach that."
Tickets are $19 for adults, $12 for kids 6-18. Children 5 and under are free. Admission is timed but tickets are good for two days and can be purchased on line at www.amrevmuseum.org.