Pentagram erected to protest Nativity scene vandalized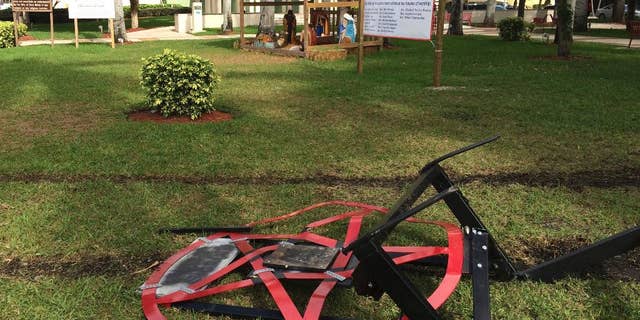 BOCA RATON, Fla. – A large metal pentagram erected by a protesting atheist next to a Nativity scene in a Florida park suffered severe damage when pulled down by vandals.
Boca Raton police officer Sandra Boonenberg said the vandals struck early Tuesday. They tied a chain from a vehicle to the 300-pound sculpture and pulled it down, cracking its frame. Tire marks leading from the Satanic sculpture remained clearly visible later in the day.
Atheist Preston Smith said he doesn't believe in God nor Satan. He says he erected the Pentagram sculpture in protest because putting a religious display in a public park makes non-believers feel like "second-class citizens."
The U.S. Supreme Court has held that if a government allows one religious group to erect a display on public property, it cannot ban others.