Pennsylvania teen hailed a hero for rescuing girl from abductor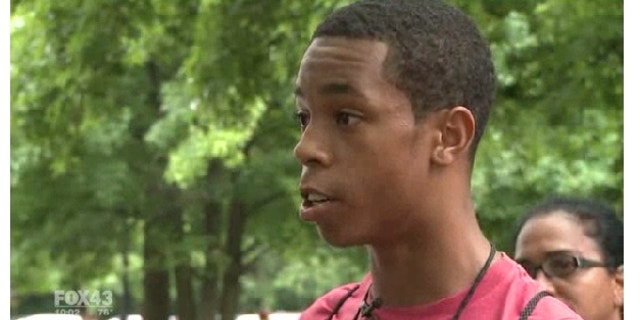 A Pennsylvania teenager is being hailed a hero after he saved a 5-year-old girl from a kidnapper who remains on the loose.
Temar Boggs, of Lancaster Township, said he had a feeling he would find the little girl after he and his pals saw a search underway.
"We got all of our friends to go look for her," Boggs, 15, told LancasterOnline.com. "We made our own little search party.
"I'm just a normal person who did a thing that anybody else would do," he added.
The girl was last seen by her mother walking toward a wooded area behind an apartment on Thursday, LancasterOnline.com reported. At around 4:20 p.m., the suspect allegedly lured the child by taking her for ice cream and then assaulted her, according to the website.
Boggs was with his friends when he noticed a large police presence in the neighborhood. He and his friends reportedly joined the search on their bikes, riding around the area looking for the child.
At about 6:48 p.m., the suspect pushed the girl from his vehicle after Boggs and another boy saw the child in his car and chased him through the neighborhood.
"She runs to my arms and said, 'I need to see my mommy,' " Boggs told the newspaper.
The suspect, who remains on the run, is being described as a middle-aged man wearing green shoes and "distinctive" clothing. He was driving a red or maroon car, possibly a Chevy, with round tail lights, according to the newspaper.
Click for more from LancasterOnline.com