Pennsylvania police officer plotted to blackmail his wife; she plotted his death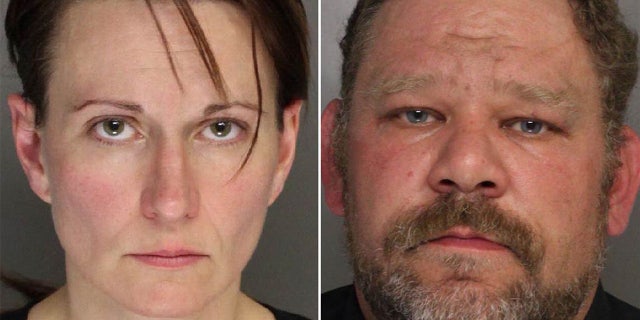 A Pennsylvania police officer pleaded guilty to blackmailing his wife over having sex with a minor, while she pleaded guilty to plotting to kill her husband.
Keith Transue, a Bushkill Township officer, pleaded guilty last week to misdemeanor criminal coercion, and Robin Transue pleaded guilty to felony solicitation to commit aggravated assault and statutory sexual assault.
Robin Transue told an informant that her husband threatened to reveal a sexual relationship she had with a 14-year-old boy in 2010 if she left him, according to court documents.
Prosecutors said that Keith Transue failed to report the abuse when he first learned about it, which he is legally required to do as a police officer. He was placed on leave after the charges were filed, and Police Chief Mike McLouth said Wednesday the officer submitted a letter of resignation.
Prosecutors said this blackmailing was the reason behind Robin Transue's attempt to kill her husband and that she suggested several ways to kill him, including a drug overdose or a hunting accident.
"Transue was using his wife's crime to keep her from leaving or divorcing him. This in turn was essentially the motive for Robin soliciting Keith's murder," District Attorney Michael Mancuso said.
The Mount Pocono residents, both 43, are scheduled for sentencing March 20.
The Associated Press contributed to this report.