Pennsylvania Man Vows to Keep 24-Foot Cross Despite Ordinance Violation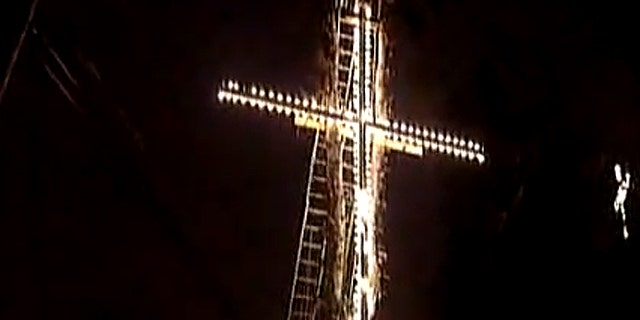 BALDWIN, Pa. – A 24-foot illuminated cross on a western Pennsylvania man's front lawn is in violation of a local ordinance, but the structure isn't going anywhere, he told FoxNews.com.
Carl Behr, 45, of Baldwin, Pa., said he was told during a borough council meeting late Tuesday that he needed a permit to build the structure. He plans to apply for such a permit Wednesday or Thursday, he said, but won't be disassembling his cross anytime soon.
"I'm not removing the cross regardless," Behr said as to whether the permit would likely be approved. "No man is going to tell me about God."
Baldwin Borough Manager John Barrett told FoxNews.com that the cross on Behr's lawn and possibly another on his roof violate the borough's ordinance for the installation of structures due to size and placement requirements.
"If he wants the structure on his property, like anyone else, he has to apply for a permit," Barrett said. "We haven't seen anything."
If the cross is not removed by Friday, Barrett said Behr will be issued a citation and could face fines of up to $300 for each day it remains displayed.
"Our ordinances spell out a process for applying for a permit for structures," he said.
Neighbor Lisa Fera, who lives across the street from Behr, has said the cross shines directly into her home and was built after she complained about Behr parking vehicles from his construction business in front of her residence.
"I'm not looking to be a bad neighbor. I believe in God, I believe in being Christian, but if you are truly Christian, then you would be supporting and respecting your neighborhood," Fera told WTAE.com. "I feel that this is a direct intimidation of me, that each time you call the police or do something, a cross goes up."
Despite the complaint, Behr, who said he has also received several "positive comments" regarding the cross, vows to continue displaying his devotion.
"They basically said that I needed to apply for a permit, so that's what I'm going to do and see what happens," he said. "I'm going to carry it as far as I can."
Rev. Robert Walkup of the Baldwin United Presbyterian Church does not "see [the issue] as necessarily cut and dry," he told FoxNews.com on Wednesday.
"The question I would ask is: Is his individual expression purely for individual motives," Walkup said. "To live a moral life, we live with others."
Walkup continued, "The primary rule here would be: Are either of them showing love and concern for their neighbors? How is that Christ-like?"
Walkup said the size of the crosses at Baldwin United Presbyterian have "never been an issue," but acknowledged that the permit procedure predated his time at the church.