Patriot hacker 'The Raptor' gains flock of followers after FoxNews.com report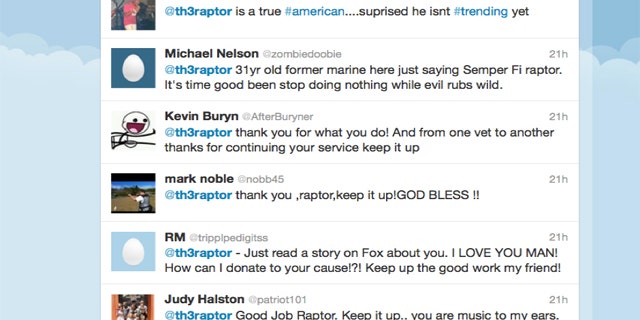 The hacker who calls himself "The Raptor" has a new flock of tech-savvy, eager veterans -- including another military grandpa -- ready to sign on to his campaign to disrupt the websites and online forums where Al Qaeda sympathizers congregate to push their hateful, anti-American propaganda.
After FoxNews.com exclusively reported on The Raptor, who describes himself as a grandfather and parent of an active-duty soldier, dozens of military veterans with IT expertise wrote him asking how they could help. The Raptor, who keeps his true identity a secret amid repeated death threats, has taken credit for taking down such terrorist-linked sites as Shamukh Islamic Network, Ansar al-Mujahideen and a handful of other virtual meeting places where jihadists gather online to issue threats and exhort one another to acts of terror.
"Ex-military, also, grandfather, and father of six," a poster who identified himself as Brian wrote Tuesday afternoon on The Raptor's blog. "Anyway to help or assist, please, contact me. Thank you for your service. We will win this fight."
Another wrote: "I am also a vet, father and work in IT field. How can help you or what can I do on my own?"
Within hours of the FoxNews.com story being published, the number of people following The Raptor on Twitter jumped more than tenfold. And the praise and support rolled in on his blog and on Twitter.
"So @th3raptoris hacking and taking down Al Qaeda websites. Good for him. I think I'll join him and see if I can kill a few off myself!" wrote one Twitter user.
"Saw your post on Fox....need help?" wrote another.
Others who identified themselves as current or former military personnel just wanted to thank him.
"31yr old former marine here just saying Semper Fi raptor," one wrote.
"I am a soldier," wrote yet another. "I wanted to thank you personally for what you do. Hooah!"
"As a retired USAF SNCO and AWACS Surveillance and Data Links Operator, you have my support and gratitude!" another wrote.
A grandmother who posted photos of her military children in dress blues wrote: "Grandpa - ya' done good!!! Been busy here raising some of our own heroes: protecting us here & "elsewhere"
In a second, exclusive interview with FoxNews.com, The Raptor tried to adjust to his new celebrity status.
"As for the new fame, I honestly could have done without it," he said, via electronic message. "I am humbled but not sure how to react. I've had a few people offer money to help the cause, and one woman who wants to have my baby. LOL."
The Raptor, who maintains his quarrel is not with Muslims in general, but with extremists who commit or call for violent acts in the name of the religion, said he did not allow comments submitted to his blog that he deemed inappropriate to be published on his site.
"I have some that are downright offensive to Muslims so they're not going out," he said. "I have some that are pretty crazy too."
In addition to offers to help, expressions of gratitude and the request to procreate, The Raptor said he got death threats, pledges of protection, a call for him to run for president and even a query about buying "The Raptor" memorabilia, which does not exist at the moment.
For now, The Raptor is lying low.
"I received good advice from an anonymous source that things will die down (if I let it) and how I respond to this will define everything about the future. As you know, I am standing down till this blows over. I can't just keep allowing it to churn. :-)," he told FoxNews.com on Wednesday.

The Jester, The Raptor's mentor and erstwhile teammate with whom he worked on the recent Al Qaeda site takedowns, told FoxNews.com:

"I spoke with Raptor earlier, and he was concerned with his 'new found' fame, I offered the following advice..... 'It will calm down. Now is the time everyone wants a piece of you. How u handle ur now moments will define u more than what u did. :-) Peace.'
But before dropping further out of sight, The Raptor took to his blog on Tuesday afternoon to address the outpouring of support.
"I want to express my most sincere appreciation for all of your well wishes," he wrote. "Comments are flooding in and I appreciate each and every one of them. I ask you to; instead, take a moment in prayer for those who are in harm's way, for those whom we have lost, and for the families who have sacrificed so much in the name of freedom and justice for all. They are the true patriots."