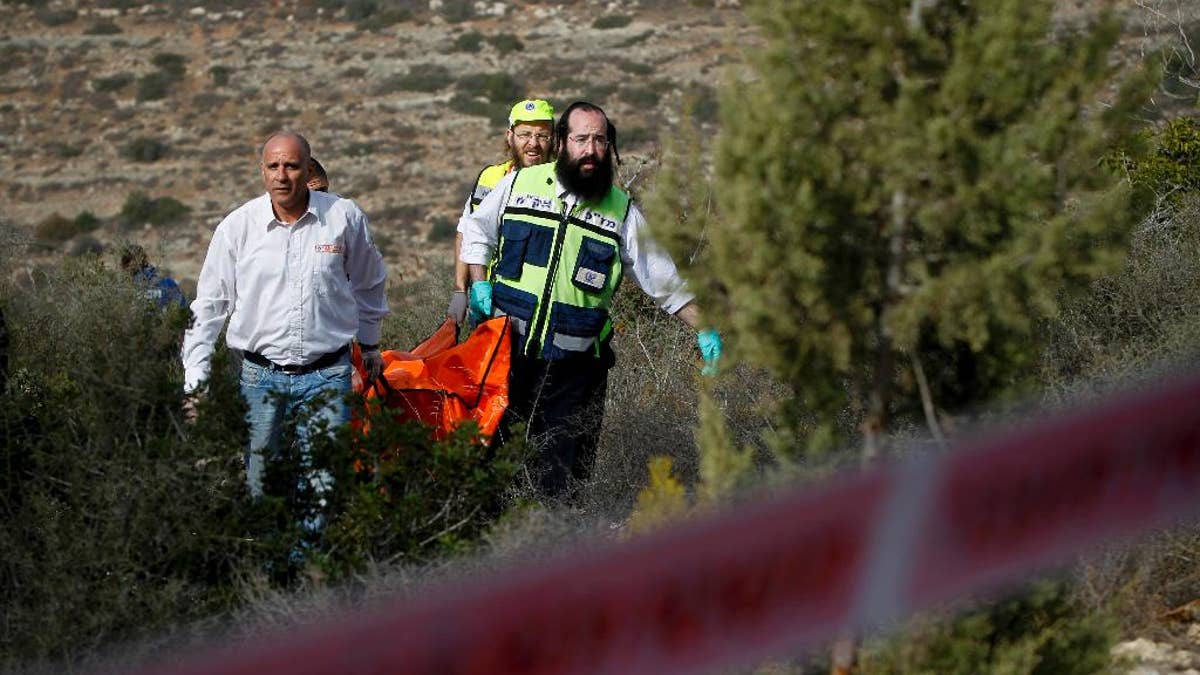 Two Palestinian men convicted in Israel of murdering a U.S. citizen who was hiking near an Israeli archaeological site could face prosecution in the United States if they're ever released from an Israeli prison.
The U.S. Attorney's Office for the District of Columbia said in a statement Thursday that Ayad Fatafta and Kifah Ghanimat each face a federal charge of murdering a U.S. national outside the United States. They're charged in the 2010 murder of 44-year-old tourist Kristine Luken who had spent much of the last two decades before her death in northern Virginia.
Fatafta and Ghanimat were convicted in an Israeli court of murder for stabbing Luken and a friend who was hiking with her and survived. Fatafta was sentenced to life in prison plus 20 years. Ghanimat was sentenced to two life terms and 60 years for the attack on Luken and another crime.
50 YEARS AFTER WAR, SETTLEMENTS BLUR FUTURE BORDERS
A court document filed in the United States says Ghanimat told Israeli authorities that Fatafta told him "that they were going to kill every Jewish person that they met." Luken was a Christian missionary; her friend, a licensed tour guide, was wearing a Jewish Star of David at the time both were stabbed.
Mohammed Fatafta, Ayad Fatafta's brother, a Palestinian police officer in the West Bank, said the family was not aware of the U.S. charges. But he said the case was unfair and made no sense when his brother has already been convicted and sentenced to life in prison plus 20 years.
"The crime took place in Israel and the trial took place in Israel too. That's enough," he said.
Meg Luken, Kristine Luken's step mother, said in a brief telephone call with The Associated Press on Thursday that the family was "very encouraged" by the filing of the charges but didn't want to make any further statement.
Kristine Luken was a graduate of George Mason University in Virginia and had worked for the U.S. Department of Education and Patrick Henry College in Purcellville, Virginia, before moving to England to work for a Christian group.
GORKA TALKS US ACTION IN SYRIA, TENSIONS WITH RUSSIA; PIERS MORGAN: MEDIA SEEM TO WANT TRUMP TO FAIL
Luken's friend, Kay Wilson, the British-born Israeli who was wounded in the attack, praised the U.S. decision.
In a statement posted on her Facebook account, she called it "the best news" she's had in six years.
"Although the prisoners are in an Israeli jail, should my government ever decide to let murderers free again in a prisoner exchange, these cold-blooded savages will not be released. Instead, they will be shipped off to the USA to stand trial there. I'm so relieved, I'm near to tears," she wrote.