Pa. couple sought in dismemberment of Calif. man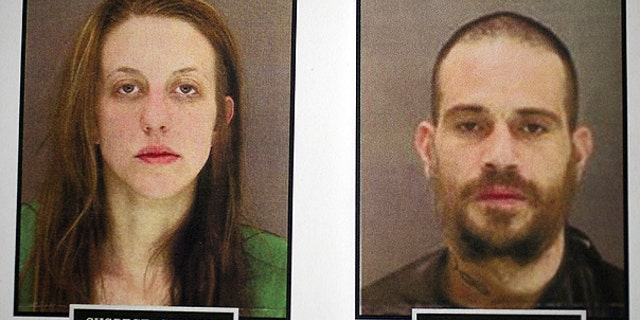 LOS ANGELES – Authorities were on the hunt for a Pennsylvania couple after the body of a Good Samaritan who befriended them was cut into pieces and stashed in a backpack and under a bed in a Skid Row hotel room, police and family said.
Edward Garcia Jr., 36, and Melissa Hope Garcia, 25, who also goes by the name of Melissa Turner, were charged Tuesday with murder and the special circumstances of torture in the Thanksgiving killing of Herbert Tracy White, 49, of Los Angeles.
The couple from York, Pa., had several previous arrests for robbery in that state and they are considered armed and dangerous, Detective Richard Arciniega said.
White's family asked for the public's help in finding the Garcias.
"Get these monsters off the streets," said a brother, Anthony DeMarco White, 51, of Los Angeles.
The couple likely tried to rob White before the killing, the detective said. White was cut into five pieces with a knife and his limbs were stuffed into a backpack, Arciniega said. His torso was found wrapped in a blanket under the bed.
A maid discovered the body on the morning of Nov. 29.
The couple had tried to wipe up the blood in their room at the Continental Hotel, and investigators suspect they were going to take away the body but were interrupted, Arciniega said.
Investigators believe White, from Hollywood, met the couple a day or two earlier.
"He befriended them, helped them out, gave them money, maybe a place to stay, and they ended up killing him," Arciniega said.
At a news conference, weeping relatives said White, who had battled alcoholism but was clean for 15 years, went out of his way to help the unfortunate. He felt it was a way of paying back the help he had been given.
White would get up in the middle of the night to drive home friends who had been drinking, hired homeless people off the street to help him with odd jobs and doled out cash that he kept in his pocket, said another brother, David White, 49, of Los Angeles.
David White said when he last talked to his brother less than two weeks before his death, Herbert White said it was his "busy time of year" for helping people.
Herbert White had mentioned that after Thanksgiving, he had met a "lovely young couple" at an ATM and had given them a couple of cigarettes and a few dollars, said his mother, Elizabeth White.
Around 2 a.m. on Nov. 28, Herbert White got a telephone call and told his wife that he had to go and give someone a ride, she said.
"He said, 'I'll see you tomorrow.' That's the last I saw of him," Annie Coty-White said.
Her husband borrowed her car, which was found outside the hotel where he was killed.
The night before his body was discovered, a security guard received a report of a noisy commotion in the hotel room, Arciniega said. The guard knocked on the door and told them to "stop with the noise."
Family members said it was likely their brother, an athletically built man who stood 6-foot-5 and knew martial arts, was ambushed.
The York Dispatch newspaper in Pennsylvania said that on Feb. 22, the Garcias lured a convicted drug dealer to their home, bound him and robbed him, and later had exchanges involving knives and guns with associates who came to get him, according to charging documents.
The Garcias later pleaded guilty to false imprisonment and were sentenced to time served, the newspaper said. Kidnapping and other charges were dropped.
"Ed Garcia is an intelligent person when he's clean, but he has the potential for violence when he's under the influence of drugs," York City Detective First Class Jeff Spence, who worked on the case, told the newspaper. "When he's in the throes of his addiction, he's a monster."
Drugs were not immediately suspected as a motive in Herbert White's killing, Arciniega said.