Outrage after California HS magazine cartoons depict Trump as Nazi, police as KKK members: report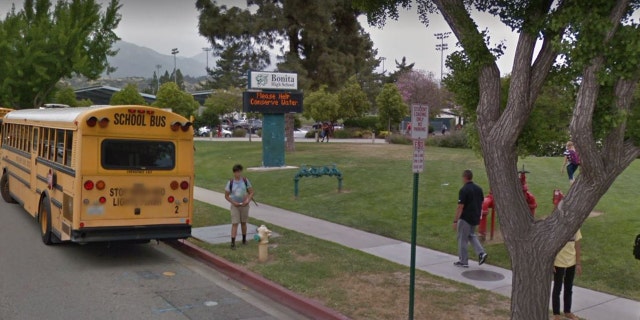 Police and parents in California were reportedly outraged after students at a high school magazine published cartoons depicting President Donald Trump as a Nazi and an officer wearing KKK garb while aiming a gun at a black child.
"The Pawprint," a student publication at the prestigious Bonita High in LaVerne, featured two provocative cartoons that were apparently pulled from Google Images, Fox Los Angeles reported.
One drawing shows a swastika hiding underneath Trump's hair. Another portrays a uniformed police officer in a white hood pointing a pistol at a baby-faced black child holding a bag of skittles, in an apparent reference to Trayvon Martin – the teen who bought the candy before being shot by George Zimmerman in 2012.
La Verne Police were fuming at the cartoons and several parents also objected, according to Fox Los Angeles. The article featuring the images has since been pulled, both online and on campus.
The author of the piece was reportedly making a larger point about the usefulness of artwork to broach controversial topics, but on social media, parents voiced their concerns about the tone and message of the cartoons.
"My son is beyond excited to become a bearcat next year, but this makes me wonder if we made the right choice," Jacqueline DeMonaco Bradley wrote in a Facebook comment, referring to the mascot at Bonita High.
Don Kendrick, the mayor of La Verne also said that the article was the result of a "very bad decision" by one teacher, according to the station
In a statement, the school district distanced itself from the cartoons.
"There is a California Education Code that affirms the First Amendment rights of student newspapers," Carl Coles, the interim superintendent of the Bonita School District, said in the statement. "The student journalist's article does not represent the views of Bonita High School or the District."
Click for more from Fox Los Angeles.