Otto Warmbier: Student was 'terrorized and brutalized' by North Korea, dad says
CINCINNATI, Ohio – The family of Otto Warmbier said Wednesday they are "adjusting to a different reality" following their son's return from North Korea, where he was "brutalized" by his captors and held for more than a year in a coma -- the cause of which is still unknown.
"Otto is not in great shape right now," his father, Fred Warmbier, told Fox News' Tucker Carlson in an exclusive interview Wednesday afternoon from his Cincinnati home. "Otto has been terrorized and brutalized for 18 months by a pariah regime in North Korea."
North Korea, for its part, said Thursday that it released Warmbier "on humanitarian grounds" after he had been held prisoner for 17 months, state news reported.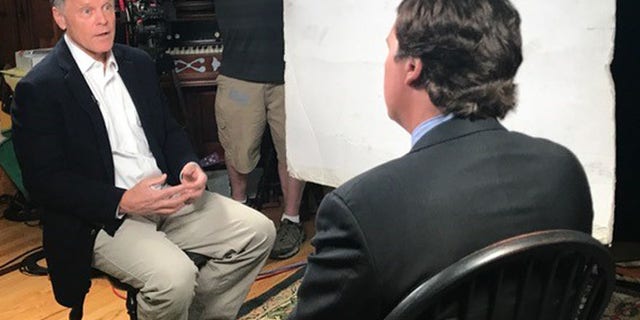 The 22-year-old college student was medically evacuated from North Korea and flown to a hospital in his hometown of Cincinnati late Tuesday following a brief flurry of diplomatic activity that involved the highest levels of U.S. government.
The elder Warmbier singled out Joseph Yun, the U.S. special envoy on North Korea, as a key player in his son's release as well as Secretary of State Rex Tillerson and President Trump.
"They wanted Otto home," Warmbier said. "Cindy and I believe they made this happen."
Warmbier's interview will air in full Thursday night on "Tucker Carlson Tonight at 8 p.m. ET.
Wambier said he did not yet know what happened to his son during his 18 month-long imprisonment.
Doctors at the University of Cincinnati Medical Center are evaluating Warmbier, who was admitted Tuesday night in a coma, according to his family.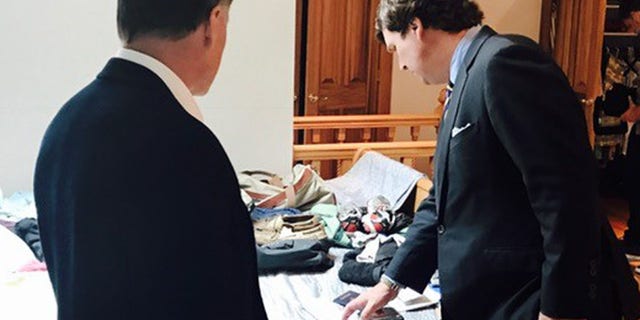 Warmbier, a University of Virginia student, was detained on Jan. 2, 2016, at Pyongyang International Airport, while visiting the country as a tourist with Young Pioneer Tours. He was charged with stealing the sign from a staff-only floor in the Yanggakdo International Hotel in Pyongyang and committing "crimes against the state." He was given a one-hour trial in March 2016, when the government presented fingerprints, CCTV footage and pictures of a political banner to make its case against the American student.
"I beg that you see how I am only human," Warmbier said at his trial. "And how I have made the biggest mistake of my life."
Despite his pleas, the college student was sentenced to 15 years of hard labor. In a post-trial video released to the world, Warmbier, under obvious duress, praised his captors for his treatment and for handling of the case "fair and square."
The next day, he slipped into a coma, his father said.
"The day after he was sentenced, he went into a coma," Warmbier told Fox News, saying the family was shocked when they learned of Otto's condition in a phone call from Yun on Tuesday of last week.
A U.S. official told Fox News that Warmbier was in a coma for "over a year." The official added that the North Koreans told the U.S. that Warmbier contracted botulism and slipped into a coma after taking a sleeping pill. Neither the family nor doctors treating Warmbier have commented on that claim.
Sherri Kirk, a spokesman for UC Medical Center, said Wednesday she had no updates on Otto's condition. A press conference is scheduled for 10 a.m. Thursday.
In Wyoming, Ohio, a Cincinnati suburb, friends and neighbors of Warmbier said they were elated the young man was home but expressed grave concern over his condition.
"We're very concerned for his health and future," said neighbor Tom Purdy. "We hope he can return to normal. We've been praying for him every night."
At Wyoming High School, where Warmbier attended, students described him as an "outstanding person" who was known in the community for his academic achievements and athleticism.
Foreigners who have been detained or imprisoned in the Hermit Kingdom often have a shared experience: confusion, forced confessions, communication blackouts and isolation.
Warmbier's release leaves three U.S. citizens currently known to be held in North Korea: accounting professor Kim Sang Duk, businessman Kim Dong Chul and Kim Hak-Song, who worked at Pyongyang University.
When asked what advice he might have for their families, Warmbier said he had none.
"I wouldn't know what to say to them," he said. "This is, I've been told, not precedented."