Oregon professor fired for bizarre tirade, allegedly threatening student protesters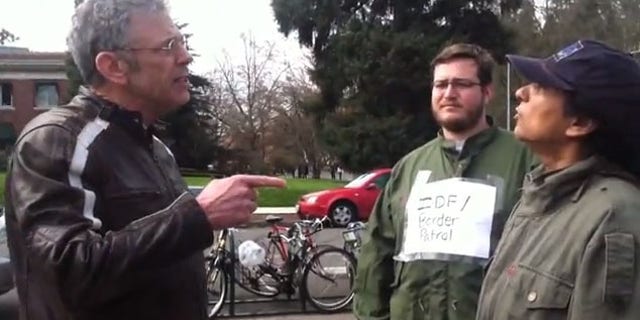 NEWYou can now listen to Fox News articles!
A law teacher with the University of Oregon got a life lesson from the school of hard knocks when he was fired from his position after he got irate with student protesters, seen in an eyewitness video eventually shoving one protester and snatching the phone of another.
James L. Olmstead, an adjunct law professor, was arrested on theft and physical harassment charges after he confronted students from a pro-immigration organization during a campus rally last Thursday and at first seemed to agree with the activists before the public discussion took a sudden bizarre turn.
Olmstead, who also is a land-use and conservancy attorney, started to reject the protestors' peaceful protesting techniques in an exchange that was captured on video and went viral over the weekend on YouTube.
[pullquote]
"Start a f---ing war. ... Stop being p---ies," he starts shouting at the crowd of students. "Start a war, get a gun, shoot me first. I'm right here."
Click to see video of the incident [WARNING-graphic language]
"This is an aggressive tone. I'm feeling a little threatened right now," one student can be heard saying on the video as Olmstead rips off his jacket and throws it to the ground, appearing to gear up for a physical altercation.
The professor then becomes more irate when one student approaches him in an attempt to calm him down.
Olmstead is seen in the video shoving the student and starting to threaten the group, urging them to "do something" if they wanted him removed. He then grabs the phone of a student who had been using it to film his awkward behavior and puts it in his back pocket.
With the phone still recording, Olmstead can be heard continuing his tirade, shouting, "Do something."
He continues by stating that the campus grounds are his public property and posing questions to the protestors.
"Do I have freedom to speak to? Can I yell?" Olmstead said. "I'm part of your performance. You need a protagonist."
Olmstead was arrested after his outburst and later removed from his teaching position, and he received a letter from university officials stating that he was banned from campus.
"His teaching responsibilities have been reassigned to other professors on staff," Julie Brown, director of communications for the University of Oregon, told FoxNews.com.
Olmsted did not immediately respond to requests for comment.
"If a liberal professor attacks like-minded students in this way, I can only imagine how he would have treated students of an opposing viewpoint." Josiah Ryan of advocacy group Campus Reform said in a statement to FoxNews.com.