Ore. teen accused of 'Columbine-style' plot spoke about bombs, classmate says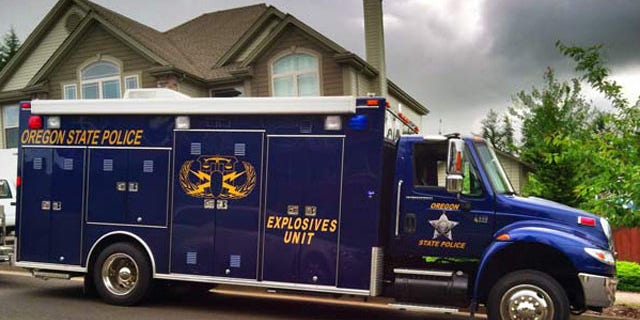 ALBANY, Ore. – Classmates of an Oregon teenager accused of planning to blow up his high school say the 17-year-old discussed bomb-making in the weeks before his arrest, but did not speak of a plot to inflict damage.
Thomas Stone, who attends West Albany High School, told KATU-TV that Grant Acord discussed bomb-making materials with him in class a couple of weeks ago.
"You know, I didn't think much of it `cause he's kind of a strange kid," Stone said. "So I wasn't surprised he had some strange hobbies, you know?"
Acord was arrested Thursday night after police got a tip that the youth was making a bomb to blow up the school about 75 miles south of Portland.
On Saturday, Benton County District Attorney John Haroldson said Acord will be charged as an adult with attempted aggravated murder. Acord's relatives have not released any public statements, and it's unknown if they have hired a lawyer to represent him or if he will be assigned a public defender at Tuesday's arraignment.
The Associated Press normally doesn't name minors accused of crimes but is doing so in this case because of the seriousness of the allegations and because Acord is being charged as an adult.
Benton County District Attorney John Haroldson said in an interview Saturday that the alleged plot was "forged and inspired" by the 1999 massacre at Columbine High School in Colorado. He said investigators found six bombs in a secret compartment under the floorboards of Acord's bedroom, along with written plans, checklists and a diagram of the school.
Student Keagan Boggs said Acord had approached some of his friends to talk about bombs, though not the alleged plot.
"It wasn't like, `Oh, I'm making bombs. I'm gonna blow stuff up,"' Boggs said.
No bombs were found during searches of the school, and classes will resume as scheduled Tuesday.
"I have been advised that none of the evidence developed thus far suggests any broader conspiracy or involvement by any other persons," Maria Delapoer, the superintendent of Albany schools, said in a statement to parents. "The bottom line is that the school is safe and that students can return to school on Tuesday confident that no outstanding threats remain."
Not much has been learned about Acord, who does not appear to have a strong presence on social media.