Ole Miss professor condemned for claiming senators 'don't deserve your civility'
An assistant professor at the University of Mississippi has come under fire for calling on people to interrupt and harass senators in public.
Ole Miss Chancellor Jeffrey Vitter condemned a post on social media by Assistant Professor of Sociology James Thomas that encouraged "acts of aggression."
"Don't just interrupt a Senator's meal, y'all. Put your whole damn fingers in their salads. Take their apps and distribute them to the other diners. Bring boxes and take their food home with you on the way out," Thomas tweeted days after Senator Ted Cruz (R-TX) was harassed at a restaurant. "They don't deserve your civility."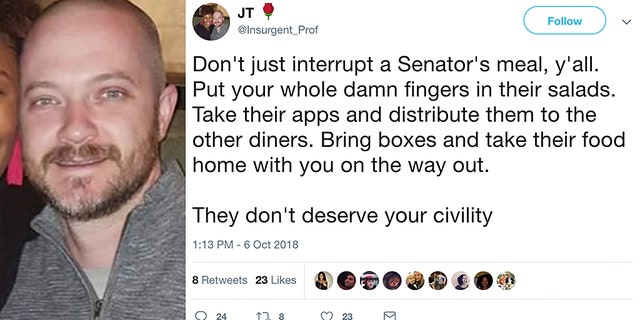 TED CRUZ HECKLED BY RADICAL PROTESTERS IN DC RESTAURANT: VIDEO
Vitter posted in response: "I urge all members of the Ole Miss community to demonstrate civility and respect for others and to honor the ideal of diversity of thought that is a foundational element of the academy."
Thomas, whose Twitter handle is @Insurgent_Prof, responded to Joe Scarborough's tweet urging people not to yell at senators or shout at them in restaurants, writing: "I guess you need a hill to die on…"
Thomas then tweeted: "Yes, I plan to take away your healthcare, but that's no reason to interrupt me while I eat my meal at this restaurant you probably can't afford while I pay for my meal with my six figure salary you help subsidize."
Hillary Clinton seemed to echo Thomas's call in a recent interview with CNN when she said "you cannot be civil" with Republicans until the Democrats gain power in Congress.
Thomas' tweet went viral after "Our State Flag Foundation" shared a screenshot on its Facebook page Saturday morning calling for him to be fired.
RESTAURANT WHERE ANTI-KAVANAUGH PROTESTERS DISRUPTED TED CRUZ'S DINNER HIRES SECURITY
"JT Thomas is nothing but a radical agitator and is now calling for outright uncivil illegal harassment," the organization's post reads. "Fire this awful person, he should never be around your children!!!"
U.S. Senate candidate and Mississippi State Senator Chris McDaniel also condemned Thomas' post on Facebook.
"Another threat from another low-life liberal — this time it's from an Ole Miss professor," McDaniel wrote. "Disgusting. It's time for disciplinary action."
Thomas responded to negative messages following the viral post.
"Run for office. Get elected. Pass legislation that harms large groups of people. And I will stick my whole foot in your lunch. Deal?" he wrote Saturday.
He also added, if he is given a sabbatical, he plans to write his fifth book and is "committed to helping strengthen Democratic Socialists as a viable political alternative, so I'll do that in my spare time."
The university nor Thomas immediately responded to request for comment.