Oily ducks found after thousands of gallons of oil spill in Arkansas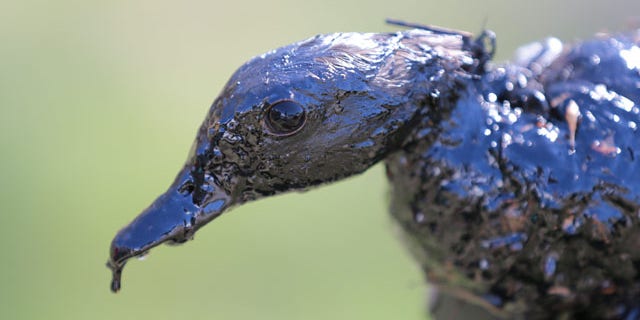 The environmental impacts of an oil spill in central Arkansas began to come into focus Monday as officials said a couple of dead ducks and 10 live oily birds were found after an ExxonMobil pipeline ruptured last week.
"I'm an animal lover, a wildlife lover, as probably most of the people here are," Faulkner County Judge Allen Dodson told reporters. "We don't like to see that. No one does."
Officials are urging people in Mayflower, a small city about 20 miles northwest of Little Rock, not to touch any injured or oiled animals as crews clean up Friday's spill.
About 12,000 barrels of oil and water have been recovered since ExxonMobil's Pegasus pipeline sprung a leak, spewing oil onto lawns and roadways and nearly fouling a nearby lake.
Dodson said he expects a few more oily birds to turn up in the coming days.
"I don't expect a great number of them," he said. "I'll be thoroughly disappointed if there are."
Investigators are still working to determine what caused the spill, which led authorities to evacuate nearly two dozen homes in a subdivision.
It's not clear when residents will be able to return to their homes, but Dodson said it could be within days for some people.
"Our focus is to protect the community," said Karen Tyrone, vice president of operations for ExxonMobil Pipeline Co. "We have air monitoring going on seven days a week, 24 hours a day ... and to date, we have no indication that there's a health impact on the community."
Still, the air smells like oil, and area residents say it has for days.
"We live five miles out in the country and we've had the smell out there," Karen Lewis, 54, said outside a local grocery store. Its parking lot, like much of this small city, is teeming with cleanup crews and their trucks.
Meanwhile, in the neighborhood where the pipeline burst, workers in yellow suits waded in an oil-soaked lawn Monday as they tried to clean up part of the area where the spill began.
The pipeline that ruptured dates back to the 1940s, according to ExxonMobil, and is part of the Pegasus pipeline that carries crude oil from the Midwest to refineries in the Gulf of Mexico.
Exxon spokesman Charlie Engelmann said the oil is conventionally produced Canadian heavy crude.
"Crude oil is crude oil," Dodson said. "None of it is real good to touch."