Ohio museum volunteers building vintage WWII plane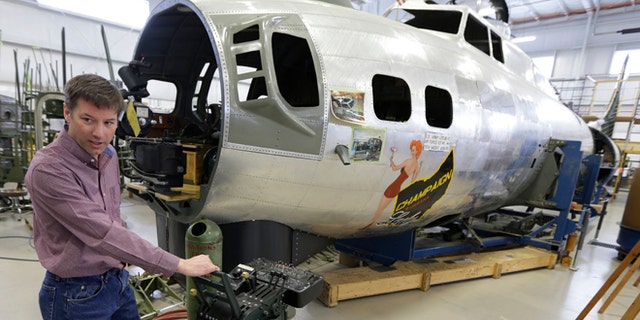 URBANA, Ohio – They got one part for the World War II-era bomber from under an elderly woman's porch in the next town, and another was bought from someone who had it hanging in a bar in Colorado. One chunk was a prop in a 1960s TV show, and the tail section was salvaged from a wreck deep in the Alaska wilderness.
When dozens of volunteers are finished piecing them all together at a small Ohio museum, they're going to roll out a better-than-new, airworthy version of one of history's most famous military airplanes, the B-17, celebrated in Hollywood adventure movies like "Twelve O'Clock High" and "Memphis Belle."
A behemoth of a vintage plane that hasn't been manufactured new in nearly 70 years is being built one piece at time here -- and when the volunteers can't buy or barter for parts they need, they're making them from scratch based on a collection of 28,000 original Boeing Co. blueprints fetched from microfiche at the Smithsonian Institution.
"Modesty aside -- and I've been around airplanes as much as anybody here -- I think we're building a better airplane than Boeing did," says volunteer Dick Bidlack, a 79-year-old Vietnam War fighter pilot who's been involved with the Champaign Aviation Museum project since it started in 2005. "But we're not trying to build 15 of them a day in a wartime scenario. We're taking years, so we have a little more freedom."
Although completion is still years away, the gleaming shell of the plane stretched out in the hangar these days is unmistakably a B-17, the rugged 74-foot-long, four-engine bomber called a "Flying Fortress" because it bristled with .50-caliber machine guns and could take an awful beating in combat.
Volunteer Frank Drain designed and painted the authentic-looking nose art, which features a leggy 1940s pinup girl against an outline of Ohio and the plane's Champaign Lady nickname.
"If you had to pick an airplane that would attract the public attention, the B-17 is the one to pick," says the 61-year-old Drain, whose father was a radio operator on a Flying Fortress during the war. Drain now teaches a class on aviation occupations at a local vocational school and brings his students to help out with the project, which can be inspected by visitors any time the museum is open.
More than 12,700 B-17s were built for the war effort, most of them pressed into service for daylight precision bombing raids on industrial targets in occupied Europe from small bases in England between 1942 and 1945. It was harrowing duty that claimed the lives of two out of three young men -- their average age was 20 -- who served on the storied planes.
After the war, many B-17s were unceremoniously left to rust in scrap yards or pressed into other service. Around 40 are left around the world today, with fewer than a dozen in flying condition.
Coincidentally, history's most celebrated B-17 -- Memphis Belle -- is currently being restored about 40 miles away at the National Museum of the U.S. Air Force near Dayton. The Belle got the royal treatment from the military brass in 1943 after becoming one of the first B-17s to survive the required 25 missions at a time when American bombers were suffering heavy losses. Museum spokesman Rob Bardua says public display of the plane is still years away, although behind-the-scenes tours allow visitors to see the restoration work.
The fact that the Memphis Belle and other B-17s at the much-larger Air Force museum will never leave the ground again motivates the Urbana museum crew even more in their quest to make the Champaign Lady a flying example.
"There was never a decision to make. When we started the project, it was to make it fly," says Dave Shiffer, whose ride aboard a touring B-17 with his father and brother in 2005 eventually led to the B-17 project and the founding of the nonprofit museum.
The initial chunks came from five different planes. The many other missing parts that can't be found and restored have to be fabricated under the watchful eye of Randy Kemp, the 56-year-old project manager who works with a changing cast of around 100 volunteers who have come from as far away as England just to be part of the effort.
Donations and fundraisers are helping pay for the project, which Shiffer says will end up costing millions. A benefit dinner in April at the museum will feature a talk by Amanda Wright Lane -- a great-grandniece of Orville and Wilbur Wright.